Millions of children still facing dire conditions 100 days after Türkiye-Syria quakes: UNICEF
2023-05-18
More than six million boys and girls in Türkiye and Syria are still struggling to cope 100 days after the deadly earthquakes that hit both countries, the UN Children's Fund (UNICEF) reported on Wednesday.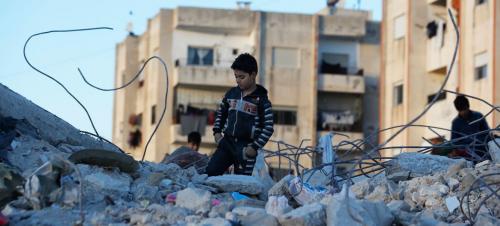 Child labour in Türkiye and Syria could increase following the February earthquake.
In total, 2.5 million children in Türkiye, and another 3.7 million in neighbouring Syria, need continued humanitarian assistance, the UN agency said, appealing for greater support for affected families.
The earthquakes which struck on 6 February, followed by thousands of aftershocks, have pushed families to the brink and left children homeless and without access to water, education, medical care, and other essential services.
'Lives turned upside down'
"In the aftermath of the earthquakes, children in both countries have experienced unimaginable loss and grief," said UNICEF Executive Director Catherine Russell, who visited both countries just weeks after the double disaster.
"The earthquakes struck areas where many families were already incredibly vulnerable. Children have lost family and loved ones, and seen their homes, schools and communities devastated and their entire lives turned upside down," she added.
Even before the earthquakes, many families in affected areas were struggling, according to the UN agency.
Young lives in danger
In the regions of Türkiye impacted, approximately 40 per cent of households were already living below the poverty line, compared to around 32 per cent nationwide, and estimates indicate the figure could rise to more than 50 per cent.
Vulnerable children in hard-hit areas are exposed to threats including violence, forced marriage, forced labour, and dropping out of school. The education of nearly four million children, who were enrolled in school, was also disrupted. This number includes more than 350,000 young refugees and migrants.
UNICEF warned that although Türkiye has made strides in reducing these risks in recent years, the impact of the earthquakes could reverse that progress.
Syrian war impact
Meanwhile, children in Syria were already struggling after 12 years of war, which has had an impact on all infrastructure and public services – a situation that was exacerbated by the earthquakes.
The severe damage to water and sewage infrastructure has put 6.5 million people at an elevated risk of waterborne diseases, including cholera.
UNICEF estimated that 51,000 children under the age of five are likely to suffer from moderate and severe acute malnutrition, and 76,000 pregnant and breastfeeding women need treatment for acute malnutrition.
Additionally, it is estimated that nearly two million children have had their education disrupted, with many schools still being used as shelters.
Exploitation and abuse risks
Many of these boys and girls are still living in incredibly difficult situations. They also face heightened stress due to the additional uncertainty of not knowing when they need to move from one shelter to another.
"The long-term impacts of the disaster, including soaring food and energy prices combined with loss of livelihoods and access to services will push hundreds of thousands of children deeper into poverty," Ms. Russell said, underscoring the need for continued support to families.
"Unless financial assistance and essential services are prioritized for these children and families as part of the immediate and long-term recovery plan, then children will remain at greater risk of exploitation and abuse."
Focus on children
UNICEF urged the international community to prioritize what it called "a child-focused early recovery", while also highlighting the need to build back better.
The agency also called for continued investment in key areas, including financial assistance for families, access to quality education, and access to psychosocial support.
Furthermore, continued funding is needed for health, nutrition and water, sanitation and hygiene programmes, including to reduce the risks of disease outbreaks.
UNICEF is appealing for $172.7 million to meet the lifesaving needs of nearly three million earthquake-affected children in Syria. Some $78.1 million has been received to date, with the areas of nutrition, health and education remaining significantly underfunded.
Across the border, UNICEF still requires more than $85 million of a $196 million appeal to provide required services to children in Türkiye.
Source:UN