UN rights chief calls for action to address Central Mediterranean Sea migrant crisis
2023-04-14
The sharp rise in migrants and asylum-seekers making the deadly Central Mediterranean crossing into Europe requires urgent action to save lives, UN High Commission for Human Rights Volker Türk said on Thursday.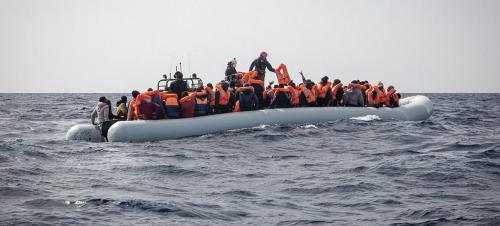 Migrants are rescued off the coast of Libya by the NGO, SOS Méditerranée.
Since 2014, over 26,000 people have died or gone missing crossing the Mediterranean Sea. Most of these deaths or disappearances, over 20,000, occurred in the Central Mediterranean, considered among the deadliest migration routes in the world.
"We are seeing a steep increase in the number of desperate people putting their lives at grave risk," said Mr. Türk.
"We cannot afford to dither, and to become embroiled in yet another debate about who is responsible. Human lives are at stake."
Regular migration channels
The UN rights chief called for concerted efforts to ensure swift rescues at sea, and the dignified, effective, and thorough processing of migrants at safe locations.
He urged countries to open up more regular migration channels, and to strengthen responsibility-sharing, arrangements for the disembarkation of rescued persons, as well as oversight of migration-related policies and practices.
His appeal came a day after the International Organization for Migration reported that 441 migrants had died in the Central Mediterranean during the first three months of the year, making it the deadliest first quarter on record since 2017.
Rescues at sea
The High Commissioner applauded the efforts of the Italian Coast Guard, who have rescued some 2,000 people since Friday.
Roughly 400 people reportedly remain at sea, waiting for help. At least four people died, and more than 20 others are missing, after two migrant boats sank off Tunisia on Saturday.
Italy has recorded some 31,300 migrant arrivals so far this year, up from around 7,900 during the same period in 2022. Most migrants come from Côte d'Ivoire, Guinea, Bangladesh, Tunisia and Pakistan, and they departed from Libya and Tunisia.
Support and cooperation
"Now is the time for solidarity with Italy and enhanced cooperation to safeguard the protection of the human rights of all people on the move," said Mr. Türk, urging European Union countries to coordinate on migration governance.
Noting that Italy this week imposed a State of Emergency to manage the situation, he stressed that any new policies under it must be in line with the country's human rights obligations.  
"Human rights protections, such as the right to life and the prohibition of refoulement, cannot be derogated from, even during such times," he said.
The High Commissioner also implored the Italian Government to abandon a new law adopted earlier this year which restricts civilian search and rescue operations, and to refrain from criminalizing those involved providing life-saving assistance at sea. 
Source:UN