OSCE-jointly organized training course builds skills, knowledge in cultural property protection for ten countries
2021-09-04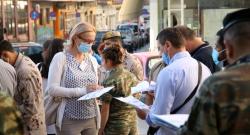 Participants of a training course on the protection of cultural property organized by the OSCE and the Hellenic Multinational Peace Support Operations Training Centre (MPSOTC), 30 August-3 September 2021
Over 30 participants from ten countries took part in an in-person training course from 30 August to 3 September 2021 to build their knowledge and skills in addressing and enhancing the protection of cultural property. The course, organized jointly by the OSCE in co-operation with the Hellenic Multinational Peace Support Operations Training Centre (MPSOTC), was held in Kilkis, Greece.
Participants included military, law enforcement, political officers as well as university students, customs agencies personnel and border police officers from Albania, Bosnia and Herzegovina, Cyprus, Egypt, Greece, North Macedonia, Saudi Arabia, Serbia, the United Arab Emirates and the United Kingdom.
They explored the issue of cultural property protection and the phenomenon of the illicit trafficking in cultural property. Session topics included contemporary security environment; the legal framework of cultural property protection; links between transnational organized crime and terrorism, money laundering and terrorism financing; artefacts' smuggling and international co-operation.
"The training course is an example of efficient co-operation between the OSCE and the MPSOTC for tackling this important transnational threat. Bringing national agencies and services representatives together with reputable experts and building inter-agency and international co-operation is a core strength of the OSCE. This kind of cross-cutting co-operation provides a solid basis for awareness raising and capacity-building aimed at cultural property protection," said Gorancho Stojkovski, Customs Adviser in the OSCE Border Security and Management Unit.
The training course was part of an OSCE project established in 2016 that aims to raise awareness of the illicit trafficking of cultural property and its impact on security and stability in the OSCE area. The course was incorporated into MPSOTC's annual training programme and is also an integral part of a thematic OSCE Programme from 2021–2026 developed to further support OSCE participating States and Partners for Co-operation.
*OSCE: Organization for Security& Co-operation in Europe
Source: Organization for Security & Co-operation in Europe