First UN International Day of Conscience Observed Online
A live virtual observance of the new United Nations day receives approximately 30,000 views.
2020-04-10
April 5, 2020 marks the first UN International Day of Conscience. Amidst the COVID-19 outbreak, observing the day is especially meaningful as conscience is the key to peace and the solution to the problems we face. The pandemic has made us more aware that we are one human family, interconnected and interdependent. We need the power of conscience now more than ever to transform the world.

Dr. Hong, Tao-Tze, President of the Federation of World Peace and Love, extends his gratitude to global citizens for observing the first International Day of Conscience on April 5, 2020 during a virtual program in support of the day.
For people in all parts of the world to join it for a virtual observance of the day on April 5, the Federation of World Peace and Love (FOWPAL) broadcast a program on Youtube and FB for 45 consecutive hours, from one of the earliest time zones to the latest one. Through the program, FOWPAL aimed to consolidate global citizens' conscience and inspire everyone to treat the environment and others with kindness. It is hoped that through our collective acts of conscience, the pandemic will end soon. The online observance received approximately 30,000 views.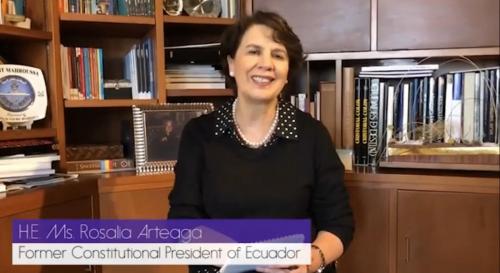 H.E. Ms. Rosalia Arteaga, former President of Ecuador, states that the International Day of Conscience is about love, patience, and solidarity for everybody, during a virtual commemoration of the day on April 5, 2020.
In response to COVID-19, Dr. Hong, Tao-Tze, President of FOWPAL, stresses in the program that our well-being is highly correlated with our conscience. "Conscience brings real health, and both are what we need badly right now." He extends his appreciation to international organizations, governments, NGOs, researchers, and healthcare professionals for their painstaking efforts in saving lives. He encourages everyone to "pray for ourselves, for our families, and for the world with the positive energy of conscience."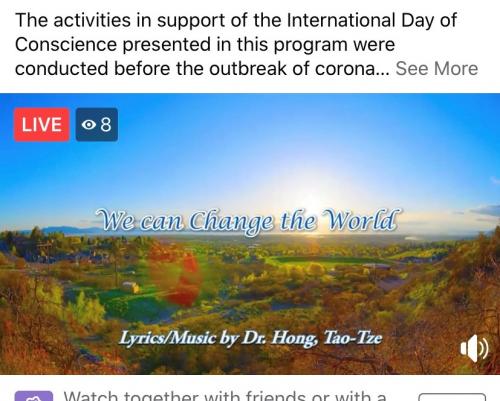 In July 2019, the United Nations adopted the draft resolution submitted by the Kingdom of Bahrain, entitled "Promoting the Culture of Peace with Love and Conscience," declaring April 5 the International Day of Conscience. In today's program, H.E. Shaikh Hussam bin Essa Al Khalifa, President of the Court of H.R.H. the Prime Minister of Bahrain, states that "The initiative welcomed by the UN, which was passed unanimously, encourages peaceful co-existence among all religious and ethnic groups." The initiative also calls upon all humanity to participate in and celebrate the International Day of Conscience, said Khalifa.
Kiribati, along with many nations that sponsored or supported this UN resolution, also plays an important role in the creation of the International Day of Conscience. H.E. Mr. Teburoro Tito, Ambassador of Kiribati to the UN, states, "Today's celebration is indeed a landmark achievement and a major step forward in the right direction, in line with the aspiration expressed two years ago today."
Other global leaders also honor the International Day of Conscience with powerful messages. H.E. Mr. Iván Duque Márquez, President of Colombia, states, "The fact that we were unable to meet in person to commemorate this date does not prevent us from coming together to generate an avalanche of global conscience. Actually, this virtual meeting is revealing of our joint call to prevent the expansion of Covid-19 and to work together, along the same avenue, to achieve greater equity to win this battle as well as the battles against hunger, poverty, violence against women and children, and domestic violence, thus creating a more conscientious world."
H.E. Ms. Rabab Fatima, Permanent Representative of Bangladesh to the UN, shares that "The COVID-19 pandemic serves as a reckoning of the power of love, peace and conscience to brace up against any adversity. In these trying times, we need to spread 'positive thought and energy' to fend off all negativities and keep the 'spring of hope' flowing to reconcile with the true meaning of life. I wish all the events undertaken to observe the International Day of Conscience a great success."
H.E. Ms. Rosalia Arteaga, former President of Ecuador, states that it is very meaningful to talk about conscience, how to help others, and how to make the world a better place, adding that "The Day of Conscience is talking about love, about patience, about solidarity for everybody in the whole world."
H.E. Mr. Anthony Thomas Aquinas Carmona, former President of Trinidad and Tobago, shares that "International Day of Conscience further empowers us all to ensure the protection of human rights, due process and rule of law, equality of treatment, integrity, and accountability in governance, supporting environmental conservation while ensuring that no one, and I repeat, no one is left behind!"
H.E. Dr. Ameenah Gurib-Fakim, former President of Mauritius, remarks that "As a human race, let us go back to what we stand for on this planet. Let us move away from our egocentric daily and relearn to start giving, sharing, and caring more for our families, societies, nations, and the planet. Just like all positive actions, it starts with each one of us."
To awaken global conscience and spread positivity, a ceremony of ringing the Bell of World Peace and Love is presented. To date, 399 visionary leaders from 122 nations have rung the Bell, bringing infinite hope to the world. A powerful song composed for this day titled "Song of Conscience" is also presented, reminding us that conscience will guide us to overcome challenges and unite us to rebuild a brighter future together.
Fighting COVID-19 is challenging for everyone. To protect ourselves from the disease and stop the spread of the virus, all are encouraged to read A manual for disease prevention and health protection, featuring "three don'ts" and "five do's." The three don'ts are: "don't get angry," "don't worry," and "don't be anxious." The five do's are "wash your hands frequently," "drink more warm water," "do more exercise," "be happy," and "be more careful." To overcome the crisis, we need to apply our conscience, work together, and help one another.
The first International Day of Conscience signifies an opportunity to create a new era. In addition to heads of state and UN ambassadors, many other government officials, NGO leaders, and global citizens share their messages about this day. Everyone is encouraged to share his/her message (text, photo, video, drawing, etc.) about conscience on the designated website or on social media (FB, IG, and Twitter). All are welcome to endorse the Declaration of International Day of Conscience. The sustainable future of humanity hinges upon our conscience-driven actions now. Let's continue to share kind words and do good deeds. We can change the world with conscience!
Source: Federation of World Peace and Love