The Purpose of Martial Arts is to Stop Conflicts - Part 6
Implement the ICCPR and ICESCR: Respect People's Cultural Rights and Freedom of Belief
2018-02-23
Throughout history and regardless of nationality or creed, hundreds of millions of people in the world have respected or followed the great masters (guru) of their time because they have admired their spirit, virtues, as well as international status and influence. They have been willing to contribute their time, money, resources, efforts, talents, etc. to jointly promote the noble ideals of world peace, human kindness, and environmental protection.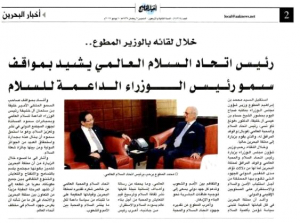 The local media in Bahrain devoted much coverage to the exchange of ideas on love and peace between Bahraini Minister of Cabinet Affairs Mohammed bin Ibrahim Al Mutawa and Dr. Hong, Tao-Tze.
By doing such good deeds, they have wished to acquire life wisdom, accumulated merits, and lead a blessed and complete life. It is precisely for this reason that Tai Ji Men dizi are willing to follow the Zhang-men-ren (grandmaster) to fulfill the ideals deep inside their hearts. These are expressly guaranteed by the ICCPR and ICESCR under articles about freedom of ideas, belief, and religion, as well as the right to cultural life, and none of them should be violated or taken away by anyone.
Tai Ji Men Shifu and dizi, based on the common ideals and beliefs of their menpai (similar to school), have self-funded their trips to countries across every populated continent, promoting love and peace and helping the world. They have never conducted any fundraisers or accepted any public donations.
The Shifu's passing on his spirit, beliefs, and mission to his dizi has been falsely claimed by Taiwan's Taxation Bureau as a profit-making behavior. This is a serious insult to Tai Ji Men dizi. Over the past 21 years, the Taxation Bureau's unlawful taxation has seriously violated the freedom of religious belief and cultural rights guaranteed by Taiwan's Constitution and the ICCPR and ICESCR.
Chun-Chieh Huang, a member of Taiwan Presidential Office Human Rights Consultative Committee and a professor of financial and economic law at Taiwan National Chung Cheng University, stressed that cultural rights are basic human rights. The ICCPR and ICESCR forbid cultural discrimination expressly. Cultural groups should be protected, preserved, and promoted according to Article 15 of the ICESCR. However, the government of Taiwan, the Taxation Bureau in particular, does not treat cultural groups equally, particularly in the Tai Ji Men case.
The handling of the case, from criminal investigations to administrative litigations, has revealed the problem that the nation lacks respect for this cultural group and discriminates against it. This is a very important landmark case of cultural rights violations, according to Professor Huang.
Dr. Rene Wadlow, president of the Association of World Citizens, NGO in consultative status with ECOSOC and associated with UN DPI, said that Taiwan tax authority's persecution and clampdown on Tai Ji Men the cultural group has seriously violated the right to liberty, life, and property protected under the Universal Declaration of Human Rights and the two international Covenants and also damaged Taiwan's international image. He stated that Tai Ji Men with such positive energy can lead the world to move in a better direction. He expressed his concern and regret over the fact that Tai Ji Men cannot fully exert its positive influences on the world because of the unjust criminal and tax cases.
Source: Tai Ji Men
Puppet Show I International Friendship Day 2020
Tai Ji Men fight against 24-year defamation and for human rights