The Purpose of Martial Arts is to Stop Conflicts - Part 5
Enlightened Master Nurturing People to Greatness
2018-02-23
In August 2008, the 5th Youth Assembly was held at the UN Headquarters in New York. Tai Ji Men dizi got together with about 1,000 young people from 62 countries, discussing how youth could get involved and help carry out the UN Millennium Development Goals (MDGs). Young Tai Ji Men dizi, dressed in bright orange jackets, brought boundless energy to the event through their "energy salutes."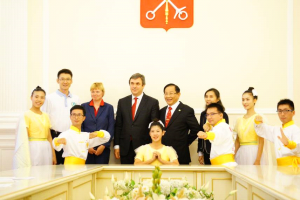 The delegation visited St. Petersburg, Russia. Viacheslav Kalganov, deputy chairman of the Committee for External Relations of St. Petersburg, received them on behalf of the governor.
Dr. Elaine Valdov, chair of the Assembly and chair of the NGO/DPI Executive Committee, said, "Dr. Hong has just the amazing ability to inspire young people to be their best. That's exactly what I see, large hearts, and people wanting to make a difference. So what else can I say, that's the most beautiful thing in the world."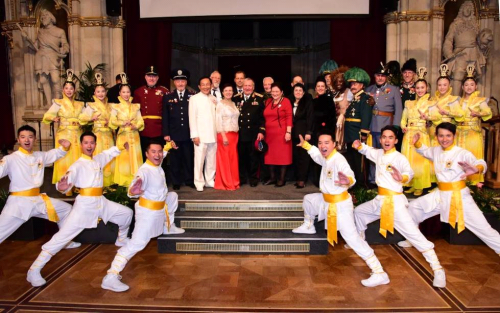 Dr. Hong, Tao-Tze is highly respected by the international community over his more-than-50-years efforts
Tai Ji Men Qigong Academy entered its 51st year in 2017. That year, Dr. Hong led his dizi to conduct five journeys of cultural goodwill. They visited 13 countries, including the United States, India, and nations in the Middle East, Eastern Europe, and Central Europe. On these trips, they, being dedicated to the promotion of the quintessence of Chinese culture and the culture of peace and conscience, were treated as honored guests by royal families.
Dr. Hong was invited to visit Bahrain in May 2017. Shaikh Hussam bin Isa Al Khalifa, president of His Royal Highness the Prime Minister's Court, received Dr. Hong on behalf of the Prime Minister of Bahrain. He praised Dr. Hong's peace work and stated that Dr. Hong deserved the Nobel Peace Prize.
On their trip to Eastern Europe in September 2017, Dr. Hong and his dizi visited St. Petersburg, Russia and were received by Viacheslav Kalganov, deputy chairman of the Committee for External Relations of St. Petersburg, on behalf of the governor of St. Petersburg. He admired Dr. Hong's peace concept very much and presented precious gifts to him. He wished the delegation would visit St. Petersburg again.
In return, Dr. Hong gave him a collection of his essays published at international conferences over the years. Dr. Hong hoped that the balance of tai ji and the wisdom of yin and yang would help leaders in all countries turn a crisis into an opportunity.
At the invitation of a European royal family, Dr. Hong led his dizi to attend the annual event of "Flame of Peace" held in the Vienna City Hall, Austria on October 20, 2017. Over 600 honored guests from 35 nations, including delegates of charitable organizations, members of royal families in Europe, ambassadors, entrepreneurs, and artists.
Herta Margarete Habsburg-Lothringen, president of Flame of Peace, especially awarded Dr. Hong the "Medal of Merit in Gold" in recognition of his promotion of love and peace across the planet. It is a great privilege to receive such an award that is officially recognized by the Republic of Austria. Such medals were presented to Dr. Werner Fasslabend, former Minister of Defense of Austria, and Dr. Edith Mock, the wife of Alois Mock, honorary chairman of the Austrian People's Party (ÖVP) as well as former Foreign Minister and former Vice Chancellor of Austria.
The delegation has traveled to every populated continent of the world, and the Czech Republic is the 78th country it visited to promote love and peace. Petr Pirunčík, diplomat of the Ministry of Foreign Affairs of the Czech Republic, received Dr. Hong and the delegation at the Office of the President of the Czech Republic. Mr. Pirunčík commended Dr. Hong for being a fighter for his ideal and said that the "Bell of World Peace and Love" is of great significance. He also mentioned that the president of the Czech Republic commended Dr. Hong's peace endeavors and said that if there is a chance, the president will participate in the ceremony of ringing the Bell and make a wish for love and peace.
Source: Tai Ji Men