The Purpose of Martial Arts is to Stop Conflicts - Part 3
Giving Advice to the UN by Ringing the Bell of Peace
2018-02-23
To pursue sustainability and development is an important issue that has put humanity's wisdom to the test and become the core concerns in the UN meetings.In August 2002, the World Summit on Sustainable Development was held in Johannesburg, South Africa; more than 100 countries and over 40,000 activists who were concerned about environmental issues attended the event.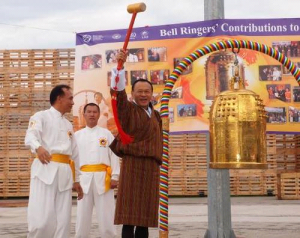 During the Rio+20 Conference, Bhutanese Prime Minister Jigme Thinley rang the bell and made his wish.
At the invitation of Dr. Mayur, director of International Institute for Sustainable Future (IISF), Dr. Hong led a delegation to attend the meeting and held four seminars and two world summits on creating a sustainable future of love and peace. Ethiopian President Girma Wolde-Giorgis and other distinguished guests were invited to ring the Bell of World Peace and Love and make wishes for peace to consolidate the consensuses of world leaders and profoundly influential figures from all circles.
Ten years later, in June 2012, the UN Conference on Sustainable Development was held in Rio on a larger scale, with more than 190 countries and nearly 80,000 people participating. Tai Ji Men Shifu and representatives of his dizi, a delegation of 80 people, also attended the event. During the conference, they held one side event after another, including cultural exchanges, summits, and bell ringing ceremonies; 25 heads of state, ministers, and NGO leaders rang the bell, including Costa Rican President Laura Chinchilla, Angolan Vice President Fernando da Piedade Dias dos Santos, East Timor's former President and Nobel Peace Prize laureate of 1996 José Ramos-Horta, Portuguese Prime Minister Passos Coelho, Bhutanese Prime Minister Jigme Thinley, and so on.
Source: Tai Ji Men