The Purpose of Martial Arts is to Stop Conflicts - Part 2
Tai Ji Men is a Precious Cultural Asset
2018-02-23
In September 2001, Dr. Hong led his dizi to attend the preliminary competition of the 8th World Cup International Martial Arts Championship in Los Angeles, USA. In October, they went to Japan for the finals.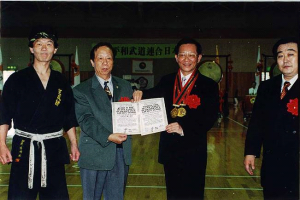 In 2001, Dr. Chih-Cheng Chiang (second from left) of the International Martial Arts Federation awarded Dr. Hong (right) certificates of merit. Mr. Sawamura (first from left) was the general umpire.
After the keen competition among the kungfu masters from more than 20 countries, Tai Ji Men garnered all judges' first-place votes in 4 competitions: Internal Quan (Chinese boxing), External Quan, Weaponry, and Qigong. They also received the World Top Outstanding Performance Golden Award.
The general umpire, Mr. Sawamura wasastonishedby Tai Ji Men's magnificent martial arts and was especially impressed by its various and unpredictable formations, which embodied the wonderful characteristics of martial arts.
The general umpire, Mr. Sawamura is a master of karate in Japan and admires Dr. Hong so much that he led his dizi to Taiwan to visit Tai Ji Men. On his third visit to Tai Ji Men, he even presented his personal samurai sword to Dr. Hong to show his utmost friendship and respect for Dr. Hong. He said that he would protect Dr. Hong and Tai Ji Men for life.
Tai Ji Men is an ancient menpai (similar to school) of qigong, martial arts, and self-cultivation. The bonds between the Shifu and his dizi andthe friendships between Dr. Hong andhis friends sharing the same ideals can never be measured by material things in the world. Tai Ji Men is not only the glory of Taiwan and the world, but also the precious cultural heritage of mankind.
Source: Tai Ji Men