Stopping Conflicts and Promoting Goodness Uniting the Hearts of Global Citizens - Part 8
Tai Ji Men Creates Several Cultural Miracles on First Direct Flight between Taiwan and South Korea: Miracle after Formal Ties Were Severed Eight Years Earlier
2018-02-20
In 2000, Tai Ji Men cultural goodwill group was invited to take part in the 39th Orient South East Asia Lions (OSEAL) Forum. Korean Air used a special charter flight to carry Tai Ji Men cultural goodwill group of 200 people to Busan directly. On November 22, when Tai Ji Men Shifu and dizi arrived at Busan, it was such a sensation that they immediately became the focal point of the media. Mr. Han-Chun Park, chairman of Seoul Foreign Correspondents' Club stated that friendships are priceless.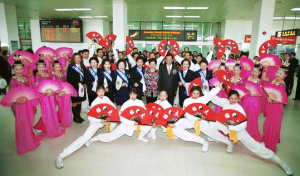 Tai Ji Men Shifu and dizi were warmly welcomed at Gimhae International Airport. This journey has been considered a significant breakthrough since Taiwan and South Korea severed their ties in 1992.
Although he felt sorry about what happened in the past, he wished a friendship would be reestablished between Taiwan and South Korea through the cultural performances of peace. Since the severing of diplomatic ties between Taiwan and South Korea in 1991, this very first journey was significant. The international forum in South Korea with the theme "Culture Is a Bridge of Friendship" congregated over 50,000 members from around the world.
Tai Ji Men was invited to perform at the opening ceremony. President of the International Association of Lions Clubs, Dr. Jean Behar rang the Bell of World Peace and Love and made a wish. The cultural goodwill group also participated in the World Culture Expo and Parade in Gyeongju as well as the parade and cultural performances at Insa-dong, inviting Korean people and overseas Chinese to get to know exquisite Chinese culture.
For decades, Tai Ji Men Shifu and dizi have visited prominent leaders in the world to share the message of love and peace. Tai Ji Men has also been invited to take part in many international events, including those in Europe, where culture is highly valued. It participated inBologna Art Festival in Italy, Amsterdam Roots Festival (music), the International Folklore Festival of Gulpilhares in Portugal, and so forth. The influence of culture is far-reaching as it touches people's hearts, transcending the barriers of language, race, and nationality.
Source: Tai Ji Men
Puppet Show I International Friendship Day 2020
Tai Ji Men fight against 24-year defamation and for human rights