Stopping Conflicts and Promoting Goodness Uniting the Hearts of Global Citizens - Part 6
Tai Ji Men Creates Several Cultural Miracles on 1999 Seattle Seafair Torchlight Parade
2018-02-20
Seattle Seafair Torchlight Parade is one of the top 10 parades in the United States. At its 50th anniversary in 1999, 144 organizations were invited to join the parade, and Tai Ji Men was the first group getting approved to participate in the parade. The governor of Washington, Mr. Gary Locke; the mayor of Seattle, Mr. Paul Schell; the president of the United States, Mr. Bill Clinton; as well as the UN Secretary-General, Mr. Kofi Annan all sent Tai Ji Men welcome letters.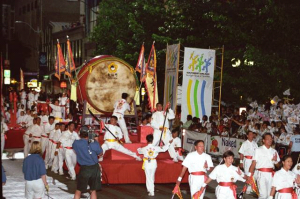 Tai Ji Men Shifu and dizi were invited to take part in the Seattle Seafair Torchlight Parade, causing a whirlwind of martial arts.
Tai Ji Men cultural goodwill group, consisting of 1,200 people aged from 9 to 80, traveled to Seattle by 3 airplanes and 2 charter flights, making it the largest-scale cultural goodwill visit in the history of Taiwan. On July 31, the day of the parade, "Tai Ji Men: Tai Ji Formation," composed of 380 people, was the largest and the most astonishing procession in the 50-year history of Seafair Torchlight Parade. Two news anchors of KIRO-TV (Channel 7) spent over 5 minutes introducing Tai Ji Men, the beautiful team from Taiwan that made them keep on saying "Amazing!" Over 400,000 visitors along the 8-kilometer-long parade route shouted, "I love Taiwan" and "I love Tai Ji Men." On the following day, Seattle Times made a news report about the sensation caused by Tai Ji Men, and a local scholar commented that Tai Ji Men made history come alive. On this trip, a sacred Drum Receiving Ceremony was co-hosted in front of Washington State Capitolby Governor Gary Locke and Dr. Hong, Tao-Tzein accordance with ancient rituals to pray for the world.
Source: Tai Ji Men
Puppet Show I International Friendship Day 2020
Tai Ji Men fight against 24-year defamation and for human rights