Stopping Conflicts and Promoting Goodness Uniting the Hearts of Global Citizens - Part 5
Tai Ji Men Has Performed at the National Day Celebration for Eight Times Inspiring People's Hearts with Culture
2018-02-20
Tai Ji Men Qigong Academy is the only civil organization that has performed for eight times at the National Day celebration. Each time they delivered different good wishes to Taiwan, enhancing the event with beautiful Chinese culture.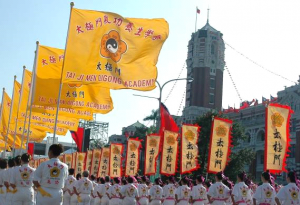 Tai Ji Men performed at the National Day celebration, sharing the essence of Chinese culture to inspire people's hearts.
Through sharing an excellent culture, Tai Ji Men hoped to display the nation's soft power of culture, nourish people's hearts, and make Taiwan become better and the people of Taiwan happier. In addition to the collective performance by approximately 1000 Tai Ji Men dizi, hundreds of Tai Ji Men dizi would stand at the southern and northern squares, enthusiastically encouraging all attendees and inspiring their hearts for five to six hours.
Mr. Jin-Pyng Wang, chairman of the National Day Preparatory Committee and the then president of the Legislative Yuan, awarded Tai Ji Men Zhang-men-ren, Dr. Hong, Tao-Tze, a certificate of appreciation in recognition of his leading all Tai Ji Men dizi to wholeheartedly participate in the National Day celebration for many times.
He said that all these years Tai Ji Men's activities had been extremely successful and inspiring. He especially mentioned its contribution in culture.
source: Tai Ji Men