Stopping Conflicts and Promoting Goodness Uniting the Hearts of Global Citizens - Part 3
Tai Ji Men's Artistically Beautiful and Powerfully Peaceful Martial Arts are World Famous
2018-02-18
At the 2000 Olympic Games, Tai Ji Men's Cultural Feast Transcended National Boundaries, Touching People's Souls
In 2000, Tai Ji Men was invited by the Sydney Organizing Committee for the Olympic Games (SOCOG) to conduct cultural exchanges during the Olympic Games. Before the trip, Mayor Ma Ying-Jeou of the City of Taipei personally presented the national flag to Tai Ji Men, praising it for "letting Taiwan stand out and allowing the world to come in."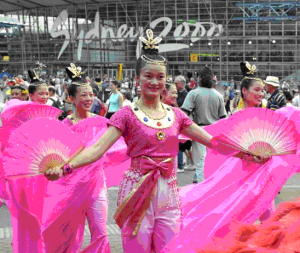 The performance of Tai Ji Men dizi caused a sensation during the 2000 Olympic Games, and they were especially invited to parade on the Olympic Boulevard.
Tai Ji Men Shifu and nearly 400 of his dizi went on the trip to Sydney. Tai Ji Men established three records with the culture of martial arts. Firstly, Tai Ji Men was the only martial arts group invited to perform in the competition area during the Olympic Games. Secondly, it was the first international group to parade on the Olympic Boulevard. Thirdly, it was Taiwan's first organization of qigong and martial arts to perform at the Sydney Opera House.
The Sydney Morning Herald praised Tai Ji Men as "Best Dragons Tai Ji Men" and a super popular group during the 2000 Olympic Games. The Chinese media complimented Tai Ji Men for displaying spiritually astonishing performances that transcended national boundaries. An Australian newspaper described Tai Ji Men's performances as unprecedented and explored the influence brought by Tai Ji Men's martial arts. The Sydney Organizing Committee for the Olympic Games (SOCOG) and New South Wales sent a thank-you letter and a certificate of appreciation respectively to Tai Ji Men for its contribution to the 2000 Olympic Games.
Source: Tai Ji Men