Stopping Conflicts and Promoting Goodness Uniting the Hearts of Global Citizens - Part 1
Tai Ji Men Shifu and Dizi Creating Cultural Miracles
2018-02-18
Culture is the lifeblood of a nation's development. In the past, periods of prosperity fueled by rich and profound Chinese culture had great influence around the world. For decades, Tai Ji Men has carried on the wisdom of Chinese culture through the shifu-dizi (similar to master-student) tradition, where Shifu passes on his teaching to his dizi, and it has been invited to visit and present cultural performances in many countries, creating cultural miracles. Over the years, Tai Ji Men Shifu and dizi have won international respect and recognition and have been treated as honored guests by presidents and royal families.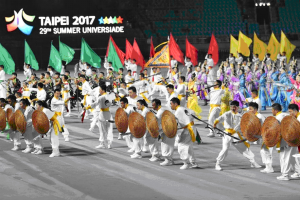 The opening ceremony of the Taipei 2017 Universiade kicked off by the Tai Ji Formation "Passing on the Torch, Heart to Heart," performed by Tai Ji Men dizi.
To date, theyhave visited 78 countries across every populated continent, andthey have always self-funded their trips and activities and have never accepted any donations from the public. On their journeys, they have delivered artistic presentations of excellent Chinese qigong and martial arts, conveying the spirit of martial arts--stopping conflicts and promoting peace. It is admirable that they have increased Taiwan's visibility on the international
arena.
Source: Tai Ji Men
Puppet Show I International Friendship Day 2020
Tai Ji Men fight against 24-year defamation and for human rights