35 Countries Light Up "Flame of Peace," Making Vienna an International City of Peace
2017-10-28
Situated in the heart of Central Europe, Vienna is the world capital of music and home to many important international organizations. The headquarters of OPEC as well as one of the four UN offices are located here. On October 20, 2017, Vienna became an international city of peace when over 600 honored guests from 35 nations gathered in Wiener Rathaus, the city hall of Vienna, to attend the Flame of Peace's annual reception. At the event, spectacular cultural exchanges were conducted, and global peace promoters were united to strongly call for world peace.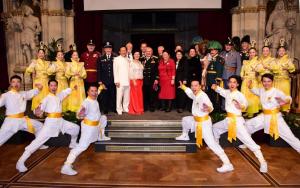 Peace promoters from 35 nations gather in Vienna to light up the Flame of Peace.
Established in 2000, the Flame of Peace is a non-profit, non-partisan, and religiously unaligned organization that is dedicated to the promotion of world peace. Its president HIRH Herta Margarete Habsburg-Lothringen said that this year's annual reception was the biggest one, with the largest number of attendees, who came from 35 nations, including Hungary, Germany, the Czech Republic, Italy, Switzerland, Russia, the United States, etc. Among them were delegates of charitable organizations, members of royal families in Europe, ambassadors, entrepreneurs, artists, and students. They congregated here to celebrate peace and friendships while music, dances, and arts were showcased. The entire room was filled with peaceful, warm, and friendly energy. A group of young volunteers of the Federation of World Peace and Love (FOWPAL) brought an Eastern cultural performance to convey the spirit of martial arts—ending conflicts and promoting peace, which caught everyone's attention. HIRH Herta Margarete and Sandor Habsburg-Lothringen, the event organizers, expressed their gratitude to FOWPAL members for coming from far away to attend the event. Additionally, Archduchess Herta Margarete mentioned that working together makes these participating individuals and organizations strong and that they can pass the ideas of peace to the world with joint forces. Regarding the performances by children from different nations at the event, Archduchess Herta Margarete said that children are the most important and the children here saw peace being collectively celebrated. The children will then pass on this message of peace. Since children will later determine the world's future, she said she would like the children to make decisions that promote peace.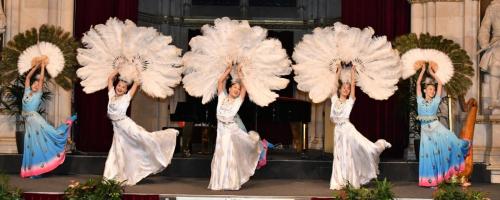 FOWPAL's elegant peacock dance radiates peace and warmth to 600-plus attendees.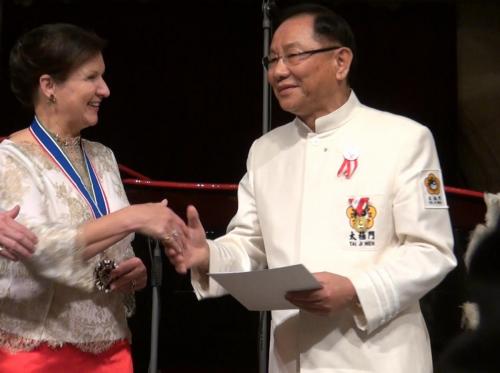 HIRH Herta Margarete Habsburg-Lothringen, president of the Flame of Peace, awards Dr. Hong, Tao-Tze, president of FOWPAL, the "Medal of Merit in Gold" for his leading FOWPAL members to promote love and peace across the planet.
Archduchess Herta Margarete especially awarded Dr. Hong, Tao-Tze, president of FOWPAL, the "Medal of Merit in Gold" in recognition of his leading FOWPAL members to visit 75 nations, bringing people closer together and fostering love and peace across the planet through its unique and excellent cultural exchanges. The Medal of Merit in Gold, the highest honor granted by the Flame of Peace, is awarded to prominent people and organizations that have extraordinary contributions to peace in their nations, the international community, or the whole world, and the medal is officially recognized by the Republic of Austria. It is a great privilege to receive such an award. In 2015 such medals were presented to Dr. Werner Fasslabend, former Minister of Defence of Austria, and Dr. Edith Mock, the wife of Alois Mock, honorary chairman of the Austrian People's Party (ÖVP) as well as former Foreign Minister and former Vice Chancellor of Austria.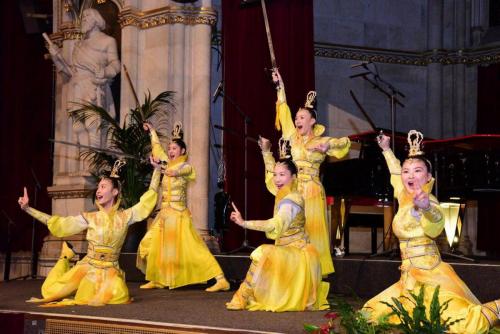 FOWPAL's elegant peacock dance radiates peace and warmth to 600-plus attendees.
The cultural performance presented by FOWPAL was once only accessible to the royals of an Eastern imperial court. Its powerful martial arts demonstration amazed all attendees while its elegant peacock dance radiated peace and warmth. Its sword dance, both graceful and powerful, embodied the courage and wisdom of modern-day swordswomen and reflected women's independence and autonomy, which are highly valued in European culture. Very impressed by FOWPAL's presentation, Dr. Edit Fleischberger, Ambassador for Peace from the Universal Peace Federation, said, "The performance is wonderful. For us here in Europe, it is very special because it is showing something. Behind the performance, there is a meaning of peace."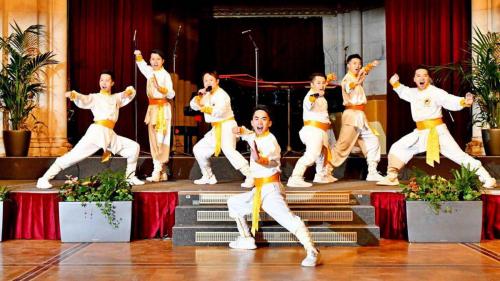 FOWPAL's powerful martial arts demonstration amazes all attendees.
Dr. Hong, Tao-Tze delivered a speech to encourage all attendees, and he stated, "On this occasion, I would like to extend our heartfelt gratitude and best wishes to all peace partners who have moved forward together with us. May the trees of love and peace be deeply rooted in every heart. May we create wellbeing for all humanity together."
Source: Federation of World Peace and Love