UNESCO sends mission to assess extent of damage at Nimrud archaeological site in Iraq
2016-12-16
The United Nations cultural agency is conducting an inspection of the Nimrud archaeological site in Iraq to assess the overall state of conservation of the site, in particular the extent of damage resulting from the deliberate destruction by Islamic State of Iraq and the Levant (ISIL or Da'esh) terrorists over the past 2 years.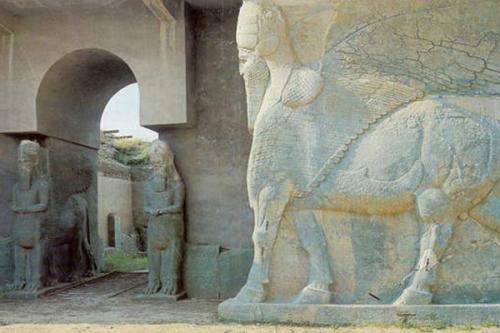 A statue of a lamassu, an Assyrian protective deity, at the North West Palace of Ashurnasirpal in Nimrud, Iraq.
"In Nimrud, large-scale, systematic and deliberate destruction of the site's archaeological remains have occurred over the past years,' said Irina Bokova, Director General of the UN Educational, Scientific and Cultural Organization (UNESCO), in a news release.
"UNESCO reiterates its full determination to work with the Iraqi authorities to ensure the safeguarding of what remains and lay the foundation for a progressive recovery of the site," she added, stressing that this is important for the people of Iraq, for the security and stability of the region, and for the history of humanity.
The assessment mission, which started the day before, led by the UNESCO office in Iraq, also aims to identify emergency safeguarding measures that could be taken in order to prevent any further loss at the site in Nineveh Governorate. Layla Salih from the State Board of Antiquities and Heritage of Iraq, and Seedo Takani from the Provincial Council of Nineveh also participated in the assessment.
According to the news release, at the ziggurat, built structures and carved reliefs have sustained considerable damage as a result of explosions and bulldozing, emergency measures will entail the immediate physical protection of the site in order to allow for detailed documentation and preventing potential looting of remaining fragments.
Actions for the safeguarding and longer-term recovery of the site will be presented by UNESCO and discussed with key national and international stakeholders at an International Coordination Meeting on the Cultural Heritage in the Liberated Areas of Iraq to be held at UNESCO Headquarters, Paris, on 23-24 February 2017.
Nimrud, also known as Kalhu, is one of the main archaeological sites of the Assyrian period in Iraq. Established during the 13th century BC, the city was built by the Assyrian King Shalmaneser I (1274 - 1245 BC), and later became the second capital of the Assyrian Empire under King Ashurnasirpal II (883-859 BC).
Archaeological excavations started in 1845 and have revealed the remains of palaces, fortifications, a ziggurat, the temples of Nabu and Ishtar, as well as several royal tombs. Distinctive Assyrian artistic and architectural remains include large statues, panels and reliefs that adorned the Palace of Ashurnasirpal, recounting his military campaigns and his achievements, and providing further understanding about ancient Mesopotamia.
Source:United Nations