At least 11 Somalis perish in latest Gulf of Aden boat tragedy, UN reports
2012-02-13
At least 11 people have drowned and another 34 are missing in the latest boat tragedy in the Gulf of Aden, the United Nations refugee agency reported today.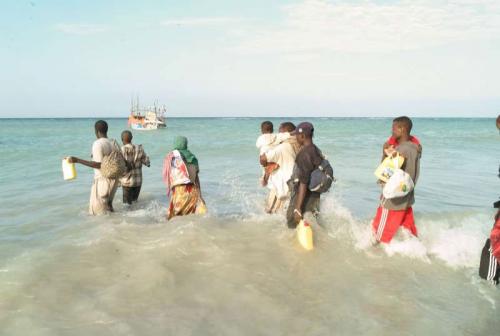 People waiting to board a boat to take them across the Gulf of Aden.
The boat capsized on Wednesday in rough seas and bad weather, after setting sail for Yemen last Saturday, according to survivors found on Somali beaches. They said their boat, with three smugglers serving as crew and 58 passengers, lost power soon after departure, setting it adrift for five days.
The UN High Commissioner for Refugees (UNHCR) said that "shocking" details came to light yesterday as survivors recounted to local authorities and the agency's partners how smugglers forced 22 passengers overboard soon after the engine failed.
"UNHCR is deeply saddened by the tragic loss of life. Authorities in the Somali port town of Bossaso are investigating the incident and we hope that the perpetrators will be brought to justice," the agency's spokesperson, Adrian Edwards, told reporters in Geneva.
So far, 11 bodies have been recovered on beaches around the village of Ceelaayo some 30 kilometres west of Bossaso. Locals also found 13 survivors, including two women and a teenage boy and girl, said Mr. Edwards.
In 2011, more than 103,000 refugees and asylum-seekers from the Horn of Africa made the perilous journey across the Gulf of Aden to reach Yemen, fleeing violence, human rights abuses and poverty, according to UNHCR.
Among those who made the crossing last year, more than 130 are known to have drowned, and those who reached Yemen's shores arrived in desperate conditions, suffering from dehydration and malnourishment.
To alert people planning to cross the Red Sea or the Gulf of Aden, UNHCR teamed up in 2009 with the International Organization for Migration (IOM) and other partners to spread awareness about the dangers.
"But people still keep making the perilous crossing," said Mr. Edwards.
Source: UN NEWS