New Hampshire Air National Guard medics travel to El Salvador, take part in urban search and rescue exchange
2012-07-11
Medical personnel from the New Hampshire Air National Guard traveled here to participate in an emergency search and extraction subject matter expert exchange between the New Hampshire National Guard and Salvadoran search and rescue personnel as part of the State Partnership Program.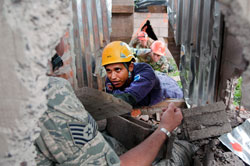 Tech. Sgt. Shawn Theberge, a medical technician with the 157th Medical Group, plays the role of a victim during a training exercise at the Santanita Fire Training Complex in San Salvador, El Salvador, as a member of the local fire department begins to extract him.Personnel from the New Hampshire Air National Guard traveled to San Salvador to participate in a Chemical Biological Radiological Nuclear High Yield Explosive Enhanced Response Force Package (CERFP) exchange with local search and rescue authorities.
More than 20 members of the Center of Training Peace Operations (CEOPAZ), a Salvadoran army unit responsible for search and rescue operations, Green Cross, an all-volunteer team of emergency medical technicians as well as local firefighters and Salvadoran army commandos exchanged best practices with the medics from the New Hampshire Air Guard's 157th Medical Group, part of the 157th Air Refueling Wing.
The New Hampshire team is part of the Chemical Biological Radiological Nuclear High Yield Explosive Enhanced Response Force Package (CERFP).
The exchange began with two days of classroom instruction at a Salvadoran army base followed by a third day at a local fire training center practicing search, extraction and patient recovery in a debris field.
The 157th Med. Grp. team presented topics such as personal protection equipment, approaching "clean" and "dirty" incident locations, triage, patient care and movement concerns. Additionally, they also focused on the CERFP flow of events in a search and rescue scenario and a hands-on explanation of first responder responsibilities in assessing patients upon arrival to an incident.
Working in a multi-lingual environment proved challenging.
"While working in El Salvador, it was equally challenging to teach a multi-cultural audience the concepts of the New England CERFP model," said Air Force Capt. Rex Rubin, a search and extraction operations manager for the CERFP. "I can see these soldiers processing the information we've shared with them and implementing it into their own dynamic environments. It really was a cooperative collaboration of ideas."
The opportunity to take part in the exchange was also something that doesn't present itself often.
"It was a dynamic exchange of experiences between how we treat patients in the United States upon reaching an incident scene and how emergency personnel here approach patients in El Salvador," said Tech Sgt. Shawn Theberge, of the New Hampshire team. "Many of the more experienced first responders here asked several questions based on their experiences that were outstanding."
The New Hampshire Air Guard members also saw the exchange as a way to give back.
"Rarely do I get an opportunity to work in an environment that I can give back to the community in a way that there is tangible evidence that I have done something for the better," said Rubin. "As Guard (members), we seem to be most challenged in times of great need and are able to rise to meet unforeseen situations. It's a great feeling."
According to the CEOPAZ commander, the chance to participate in a bilateral exchange of information similar to this as part of the exchange program with the New Hampshire Guard is a critical element to the success of his soldiers.
"It's very important we work together and exchange ideas in order to be successful," said Salvadoran army Col. Juan Bustante. "We then work together and exchange ideas with local civil authorities to help local people who are suffering."
For members of the team from New Hampshire, the opportunity to share their experiences with another culture was something that will not soon be forgotten.
The New Hampshire Guard and El Salvador partnership, which began in 2000, averages several exchanges annually.
Source: U.S. National Guard
Puppet Show I International Friendship Day 2020
Tai Ji Men fight against 24-year defamation and for human rights