Engine of BMW hybrid sports car to be made in UK
2012-06-13
LONDON German automobile maker BMW will build three-cylinder engines for its all-new i8 hybrid sports car at its factory near Birmingham, ensuring that key next-generation automotive technology is being produced in the UK.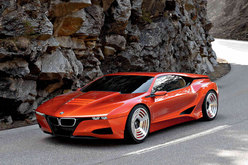 The firm's Hams Hall engine plant near Birmingham will be producing the new three-cylinder petrol engine that will help power the i8 electric supercar, the company announced Tuesday.
Last year BMW had announced plans to invest 500 million pounds in modernizing its UK plants, including the HAMs hall Birmingham plant and Mini factory in Oxford.
Speaking at the Society of Motor Manufacturers and Traders (SMMT) International Summit in London, Ian Robertson, the sales and marketing director for BMW said: "BMW manufacturing follows major sales markets. The UK is BMW Group's fourth largest global market and as such, we will continue to invest in our operations the UK."
"CO2 legislation is set to have a massive effect on the automotive industry and BMW will build new three-cylinder engines for its all-new i8 hybrid sports car in the UK at Hams Hall," he announced
The Hams Hall factory has been online for over 11 years, with 3-million engines produced for cars like the X1, 1-Series, 3-Series and MINI cars.
Commenting on the announcement, Business Secretary Vince Cable said it is yet another indication that international companies see the UK as one of the best places to develop and manufacture low emission vehicle technologies.
Over the last two years carmakers including Jaguar Land Rover, Nissan and Vauxhall have made over 5.6 billion pounds investment in the UK.
Source: Germany News.Net
Puppet Show I International Friendship Day 2020
Tai Ji Men fight against 24-year defamation and for human rights