Health of Mubarak deteriorates
2012-06-11
The former Egyptian president has been listed in critical condition.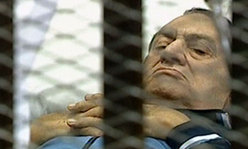 The ousted Hosni Mubarak has been reported as being near death.
Premature rumours of his death spread throughout Egypt on the weekend after reports were published of him slipping in and out of consciousness.
Mubarak was found guilty of failing to stop the killing of protesters during a popular uprising that overthrew him in 2011.
After the sentence of life imprisonment his health deteriorated, with a diagnosis of heart irregularities and depression, which has caused him to stop eating.
Mubarak is currently in Cairo's Torah prison.
An outside medical team has been authorised to oversee the former president's health.
Source:Egypt News.Net
Puppet Show I International Friendship Day 2020
Tai Ji Men fight against 24-year defamation and for human rights