Democrat Tom Barrett defeated in Wisconsin poll
2012-06-07
Republicans have scored a major victory in Wisconsin as Governor Scott Walker comfortably escaped a crucial recall vote that had brought political activists to the barricades.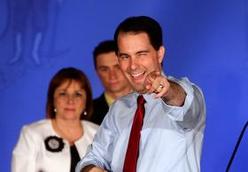 In the third such vote in US history, seeking his ouster from the office, Walker won 53 per cent in the election that was caused by opponents of his law limiting the collective bargaining rights of most public sector unions.
More than 900,000 called for the vote after angry protests over the reforms. Walker beat Democratic challenger Tom Barrett who won 46 per cent, with 99 per cent of votes counted.
Republicans said the vote would boost their prospects in November's presidential election in Wisconsin, the Midwestern state that has backed the Democrats in every presidential election since 1988.
Republican presidential candidate Mitt Romney, who will be challenging President Barack Obama, congratulated Walker.
"Tonight's results will echo beyond the borders of Wisconsin. Governor Walker has shown that citizens and taxpayers can fight back - and prevail - against the runaway government costs imposed by labour bosses," Romney said.
Walker told supporters in his victory speech that the victory was a message to the world that "voters really do want leaders who stand up and make the tough decisions".
Source: United States News.Net
Puppet Show I International Friendship Day 2020
Tai Ji Men fight against 24-year defamation and for human rights