After over two decades Suu Kyi to venture overseas
2012-05-25
For the first time in nearly two-and-half decades, Myanmar opposition leader and pro-democracy activist Aung San Suu Kyi will make her first foreign trip when she visits Thailand next week for a regional conference.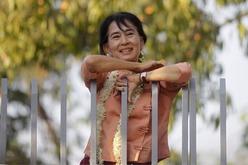 Spokesman for her National League for Democracy (NLD) Nyan Win said Thursday that Suu Kyi will be in the Thailand capital, Bangkok, Monday to attend the World Economic Forum on East Asia.
The forum will also be attended by Myanmar President Thein Sein, the former military official whose civilian government has initiated the country's recent political reforms that saw Suu Kyi contesting the April 1 by-elections which her party swept by a landmark victory.
Suu Kyi has been a world renowned pro-democracy campaigner for which she has spent years in house arrest forced by Myanmar's military rulers
The visit to Bangkok comes ahead of a longer trip to Europe next month during which Suu Kyi will make a series of key addresses, including the acceptance speech for the Nobel Peace Prize that she was prevented from collecting in 1991 because she was in detention.
The NLD spokesperson declined to give more details of the Bangkok visit. Organisers of the conference also didn't elaborate on Suu Kyi's schedule at the World Economic Forum.
The opposition leader is also scheduled to address the British parliament on June 21 during a visit to the United Kingdom, the country she has lived in for many years with her late husband and sons. She has also accepted an invitation to visit the United Nations headquarters in New York.
Suu Kyi has not left Myanmar since 1988 when she visited her home country to look after her sick mother. It was the same year when pro-democracy protests broke out in the country and she decided to stay on fearing that the authorities would not allow her to return.
Earlier this month, Suu Kyi was given a passport for the first time in more than two decades.
Source: Asia Pacific News.Net
Puppet Show I International Friendship Day 2020
Tai Ji Men fight against 24-year defamation and for human rights