Former army chief denies thousands of civilians died in final war against Tamil rebels
2012-05-23
A day after his release from jail, ex-army chief Sarath Fonseka Tuesday said the Sri Lanka government must co-operate with any international probe into alleged war crimes as he denied thousands of civilians were killed in the final phase of the country's 25 year old civil war in 2009.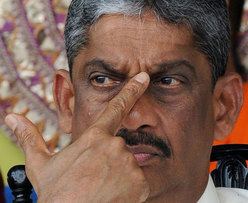 Fonseka, who led the Sri Lankan Army to its victory over Tamil rebels, told the BBC that some leaders were "hiding their faces" over the conduct of the war, as if they were guilty.
Civil rights groups estimate that up to 40,000 civilians were killed in the final months of the war even as the government concluded that about 9,000 people died during that period in the conflict. The army defeated the separatist Tamil Tigers in May 2009.
A US-backed resolution at the UN Human Rights Council in March urged Sri Lanka to investigate alleged abuses during the last months of the war.
But the former four-star general said that he would not be "scared to come before anybody" to answer queries about the end of the war because it was he and not the country's political leaders who was in charge of the military operation.
Fonseka was jailed for corruption in 2010 after challenging President Mahinda Rajapaksa for the presidency. The two former friends fell out over who should get credit for the victory over rebels.
He was jailed for various crimes, including corruption and engaging in politics while in uniform and was stripped of all his rank and retirement perks. Fonseka was released Monday after pressure from Western nations, but on the condition that he won't participate in electoral politics.
In a separate interview to Reuters wire news service, Fonseka said he was determined to join forces with opposition parties even if the terms of his release prevented him from standing for office.
"I might not be able to contest and vote, but still I can do politics I can educate the people, I can talk to people and have meetings And I can do anything else to ensure that this government is thrown away and try to bring another government that will look after the welfare of the people."
Source: The Asia News.Net
Puppet Show I International Friendship Day 2020
Tai Ji Men fight against 24-year defamation and for human rights