New majority in US: Non-white births
2012-05-18
Is the US turning towards a major demographic shift? May be so, if the new data from the US Census Bureau is any indicator.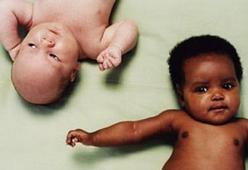 The data released Thursday says that a rising Hispanic population contributes to an historic demographic shift in the US where white births have always been in the majority. But no longer so because racial and ethnic minorities make up more than half the children born in the US.
These include, Hispanics, blacks and Asians and other mixed races that accounted for 50.4 per cent of births over the year to July.
Between July 2010 and July 2011, non-white births outnumbered white births 50.4 per cent to 49.6 per cent, according to the bureau.
Sociologists and social scientists had predicted this historic demographic milestone for years in a country founded by European whites.
People in the country relied heavily on the work of enslaved African populations, before its plunged into a civil war and civil rights battle over issues of race.
In recent years, the growth of Hispanic populations immigrating from Latin America has hastened a decline in the majority status of white births, the census data suggested.
"This is an important landmark," said Roderick Harrison, a former chief of racial statistics at the Census Bureau who is now a sociologist at Howard University. "This generation is growing up much more accustomed to diversity than its elders."
As a whole, the nation's minority population continues to rise, following a higher-than-expected Hispanic count in the 2010 census.
Minorities increased 1.9 per cent to 114.1 million, or 36.6 per cent of the total U.S. population, lifted by prior waves of immigration that brought in young families and boosted the number of Hispanic women in their prime childbearing years.
Source: United States News.Net
Puppet Show I International Friendship Day 2020
Tai Ji Men fight against 24-year defamation and for human rights