Tehran hangs man for killing of nuclear scientist
2012-05-16
Iran has hanged a man convicted of killing one of its nuclear scientists in 2010, Iranian state media reported on Tuesday.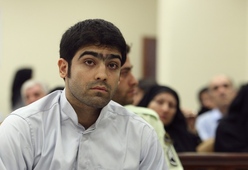 Iran has claimed that Majid Jamali Fashi, 24 was an agent for Israeli intelligence agency Mossad.
Fashi was hanged at Tehran's Evin Prison after being sentenced to death in August last year for killing Professor Massoud Ali Mohammadi by detonating a bomb outside his home in January 2010.
Fashi was accused of receiving $120,000 for the killing.
"Majid Jamali Fashi, the Mossad spy and the person who assassinated Masoud Ali Mohammadi, our nation's nuclear scientist, was hanged on Tuesday morning," the state-run Irna news agency reported.
At least five Iranian nuclear scientists, including a manager at the Natanz nuclear enrichment facility, have been killed in recent years.
Tehran has accused Mossad, the CIA and Britain's MI-6 of being behind the assassination of scientists since 2010 in order to sabotage its nuclear programme. The U.S. and Britain have denied the allegations.
The West suspects Tehran's nuclear programme to be weapons oriented, which Iran has denied.
Fashi's lawyer appealed the death sentence, but Iran's Supreme Court upheld the execution order issued by a lower court.
Irna said Fashi had confessed to travelling to Tel Aviv to receive training from Mossad.
He had appeared on Iranian TV in January and confessed to the professor's killing. He also gave details of the intelligence gathering operation he was involved in.
Source: Middle East News.Net
Puppet Show I International Friendship Day 2020
Tai Ji Men fight against 24-year defamation and for human rights