At least 19 killed in Afghan suicide bomb attacks
2012-04-11
Suicide bombers struck in western and southern Afghanistan on Tuesday, killing at least 19 people and wounding 39 others, including women and children, according to Defence Ministry spokesman General Zahir Azimi.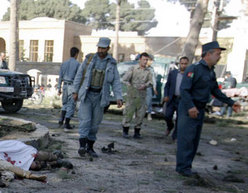 The Taliban later claimed responsibility for two suicide attacks on government facilities in Afghanistan that claimed lives of 10 police officers.
"Attacks on Afghan forces are intensifying" as they take over more responsibility from US-led NATO troops who are due to withdraw by the end of 2014, Azimi said at a press conference.
The first attack took place outside the administrator's office in the Guzara district of western Herat province when a pair of suicide bombers in a four wheel pickup tried to enter the compound, according to Saeed Agha Saqib, the provincial police chief.
The bombers detonated their explosives when security forces stopped them and started searching the vehicle.
Fourteen people, including three police officers, were killed while 28 were wounded in the attack, President Hamid Karzai's office said in a statement condemning the attack.
The massive explosion in Heart region broke a long spell of peace. The province is in the process of seeing a transfer of security responsibility to Afghan army by the NATO alliance.
In southern Helmand province, a trio of suicide bombers wearing explosives-laden vests attacked the office of the Musa Qala district police chief leading to the death of four police officers, according to Dawood Ahmadi, a spokesman for Helmand's governor.
Two of the three bombers were killed in the blast, while the third was killed in police firing after his explosives laden vest failed to blow up. The police chief and four others were injured in the bomb attack.
In a phone message to media, the Taliban claimed responsible for the attacks in the western region of Herat and the southern province of Helmand.
Source: Caribbean News.Net
Puppet Show I International Friendship Day 2020
Tai Ji Men fight against 24-year defamation and for human rights