UN development chief hails Haiti's progress two years after devastating earthquake
2012-03-24
The United Nations development chief today commended Haiti's progress in rebuilding its capital, Port-au-Prince, two years after a devastating earthquake rocked the country killing 200,000 people.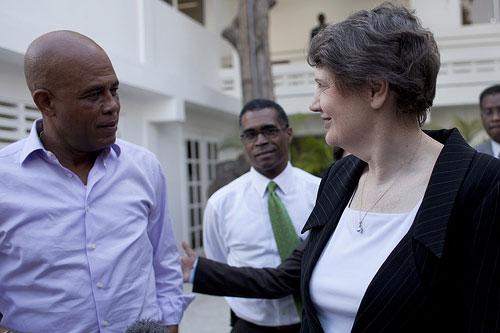 UNDP Administrator Helen Clark (right) with President Michel Martelly of Haiti.
"I saw a huge difference from the desolation I saw four days after the earthquake – the streets of Port-au-Prince are alive again," said the Administrator of the UN Development Programme (UNDP), Helen Clark, during her second visit to the country since the earthquake in January 2010. "I feel very confident in the capacity of the Haitian people to rebuild their own country."
More than 80,000 buildings in Port-au-Prince and surrounding areas collapsed after the magnitude 7.0 earthquake, leaving a mass of concrete, steel and other debris, equivalent to 4,000 Olympic-sized swimming pools.
In a press release, UNDP said more than 60 per cent of the 10 million cubic metres of rubble caused by the earthquake has been removed in one of the largest-scale clearance operations of its kind by the UN and its partners.
Some 25,000 cubic metres of the rubble have also been re-used this year on new infrastructure through a strategy for debris management developed by the Government in conjunction with UNDP.
"Rubble removal has been very impressive," the UN Humanitarian Coordinator for Haiti, Nigel Fisher, said. "More than half the rubble has been removed at a much faster rate than in Aceh, Indonesia, after the tsunami, and in lower Manhattan after 9/11."
During her visit, Ms. Clark met with several Haitian officials and women leaders, and stressed that despite the progress so far, Haiti still faces many challenges, such as strengthening its institutions, improving its health services, and providing education for women.
Even though women head more than 40 per cent of Haitian households, they hold only four per cent of seats in parliament and almost 60 per cent of women cannot read or write. The country also has the highest fertility rate in the region, 4.8 children per woman, and the highest maternal mortality rate in Latin America and the Caribbean: 670 deaths for every 100,000 born.
Ms. Clark also visited Place St. Pierre, a camp for the internally displaced, and attended the national launch of "Haiti Rebuilds: A Journey of Hope," a 20-minute movie created by Haiti's only professional film academy, Cine Institute, and produced by UNDP.
To end her four-day visit, Miss Clark will visit a community support centre that empowers residents to carry out their house repairs themselves, providing them with engineering assessments and construction trainings. So far, 8,000 families have already registered to take part of the project, benefiting 19,000 people.
Source: UN NEWS