22 kids among 28 tourists killed in Switzerland coach crash
2012-03-16
A bus carrying Belgian tourists has crashed into the wall of a tunnel in the Valais region of Switzerland, leaving 28 people, including 22 children, dead, according to police.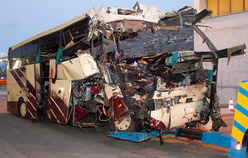 The ill-fated bus was returning to Belgium with a group of tourists after a skiing holiday at the resort of Val d'Anniviers when the tragedy occurred in a motorway tunnel Tuesday night.
The dead children were aged around 12 and were from Stekske primary school in Lommel, close to the Dutch border, and from Sint Lambertusschool in Heverlee, near Leuven.
Another 24 injured students, some of the seriously, have been hospitalized in Lausanne, Bern and other Swiss cities, police spokesman Jean-Marie Bornet said.
Police said the impact of the crash was so strong that the front portion of the bus was seriously damaged, trapping many of the passengers inside the crashed coach.
The bus was carrying at least 52 passengers who were returning after a week long skiing holiday at the Swiss Alps.
Belgian Foreign Minister Didier Reynders said the authorities were still identifying the victims. "It is incomprehensible. There were three buses and only one was in (an) accident without any contact with another vehicle," Reynders said.
Belgian Prime Minister Elio Di Rupo said it was "an extremely sad day for all of Belgium".
Source: Europe News.Net