The Eternal Smile
2023-05-21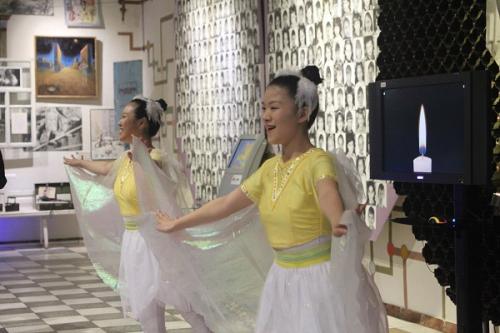 Smiling has the ability to uplift and heal. Two young Tai Ji Men dizi dressed in angel costumes spreading the blessing of peace with songs and smiles. The Federation of World Peace and Love (FOWPAL) 2019 visited Ukraine before the conflict between Russia and Ukraine, making a particular visit to the Ukrainian National Chornobyl Museum and participating in a cultural interaction that left the participants with priceless and lovely memories. We pray that the battle will soon come to an end so that the kids may smile again. (Image Story)
The World Mental Health Organization designated May 8th, the birthday of Henry Dunant, the founder of the International Red Cross, as World Smile Day in 1948. The aim is to promote human physical and mental well-being as well as social harmony through smiles. What makes it unique is that it is the only holiday celebrating a human behavior expression - the smile. By actively smiling, not only can one feel warmth and happiness, but also see the world smiling back at them.
In an article titled "Long Live - The Eternal Smile" by the well-known Taiwanese writer Jiang Xun, he mentioned the smiling terracotta figurines unearthed from the tomb of Emperor Jing of Han, Liu Qi. The smile on each of the terracotta figurines' faces bears witness to the peaceful, prosperous, and leisurely era of "Wen and Jing's Rule" in history that lasted for forty years.
Jiang Xun expressed his nostalgia for the fact that, over thousands of years, there were so few eras that could be called "good times" or "times of prosperity." He also gave the best interpretation of what a "good time" means: an era without wars, famines, severe punishments, excessive taxation, or the fear of political oppression, no fear of being economically exploited, and having one's humanity distorted. The rulers of that era allowed people to live as human beings with gratitude for life and a firm belief in it. As a result, people's faces bore smiles that were rarely seen in history.
However, does smiling only happen in times of peace and prosperity? No! There are also smiles in times of war, but they always bring a sense of sadness. During Russia-Ukrainian War, we were surprised to discover that an 11-year-old Ukrainian boy crossed the border alone, covering a distance of 800 kilometers. When he arrived in Slovakia, he wore a brave smile on his face that moved countless people.
According to media reports, the Slovakian Ministry of the Interior posted on Facebook stating that an 11-year-old boy from Zaporizhzhia, eastern Ukraine, brought only a backpack, plastic bags, and his passport when he fled alone because his parents had to stay in Ukraine. He arrived in Slovakia at night. Upon learning of his arrival, refugee volunteers warmly prepared food and drinks for him. The thin boy, who was facing the camera, smiled confidently and warmly, impressing the Slovakian Interior Ministry representative, who couldn't help but praise him: " He conquered everyone with his smile, fearlessness and determination of a real hero!"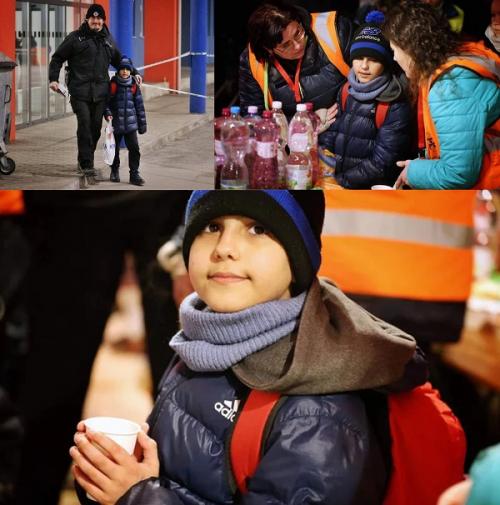 Source of photo credit: the Slovak Ministry of the Interior Facebook page for Ministerstvo vnútra SR
In addition, in his support toward Ukraine, French artist JR also shows a photo of a smiling girl that performs the solidarity of Ukraine. This photo presents a 5-year-old girl, Valeriia, fleeing from Ukraine to Poland with her mother. The moment at which she gave a happy smile as she crossed the border was recorded by photographer Artem Iurchenko. JR believes that the little girl symbolizes the future and reminds the world what Ukraine is fighting for. "Your smile lights up the world," he told the girl, "and you remind people flying over Ukraine that we must protect everyone like you."
On the road to war and peace, we also saw a touching story that took place on the African continent. The protagonist of the story, President Menezes of The São Tomé and Príncipe, rang the Bell of World Peace and Love and made a peace wish "For children's smile" during his visit to Tai Ji Men in 2001. In 2003, when President Menezes visited Niger, an overthrow happened in the country. A week later, the two sides reached compromise and signed a democracy agreement. After President Menezes returned to power, he chose to forgive the coupists with love and peace, thus avoiding domestic unrest and fulfilling his wish for peace – he won't let children lose their family. This agreement was later praised by the United Nations and the international community.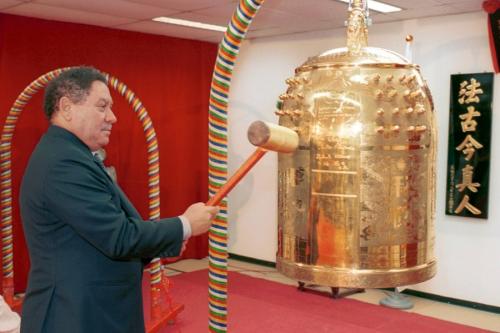 President Menezes of The São Tomé and Príncipe, rang the Bell of World Peace and Love and made a peace wish "For children's smile". (Source of photo credit: FOWPAL)
"In war there are no winners." Dr. Hong Taozi, the president of the the Federation of World Peace and Love, has been promoting the idea of love and peace for a very long time by leading a cultural mission to five continents. They enjoyed a cultural interaction while they were in Ukraine in April 2019 and visited the Ukrainian National Chernobyl Museum. They met 155 pupils from 13 different Kiev schools that day. We can see that smiles are the universal language as we look back at the images of the visiting group. Peace is even more valuable now because of the ongoing war between Russia and Ukraine, which has resulted in hundreds of thousands of fatalities and wounded.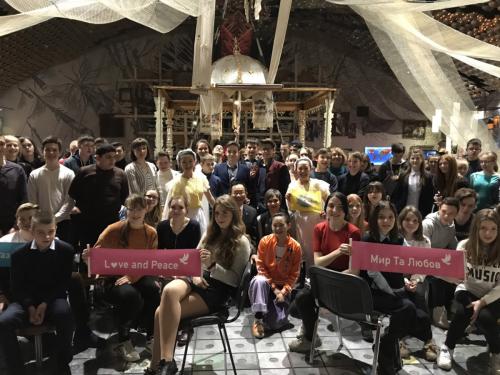 Members of the Federation of World Peace and Love met children in Kiev's seventh grade during a visit to the State Chernobyl Museum. Members shared their thoughts and blessings of love and peace with the youngsters, and the two groups took photographs. (Source of photo credit: FOWPAL)
Smiling has the ability to uplift and heal. As global citizens, if we can live in peace with ourselves, others, and everything around us, the smiles that appear naturally will not only balance the earth's negative magnetic energy, but will also be a way for us to nurture Mother Earth. If we look at the scientific law of "energy immortality", isn't it also the eternal smile in the critical moment of the earth's survival?