Visionary Nigerian teacher wins UNHCR Nansen Refugee Award
Mediator who helped gain release of Chibok girls wins Nansen honour for opening schools in conflict zone.
2017-09-20
Zannah Mustapha, a champion for the rights of displaced children growing up amid violence in north-eastern Nigeria to get a quality education, has been named the 2017 winner of UNHCR's Nansen Refugee Award.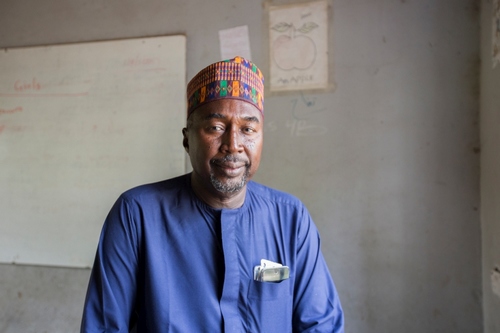 Mustapha in a class room at the Future Prowess Islamic Foundation School (I), Maiduguri, Borno State, Nigeria which he set up.
Mustapha founded a school in 2007 in Maiduguri – the capital of Borno State and the epicentre of the Boko Haram insurgency. The school has stayed open throughout the conflict with Boko Haram, which has seen some 20,000 killed across the Lake Chad region, and millions more displaced.
The school provides a free education, as well as free meals, uniforms and health care, to children affected by violence. Those orphaned by the conflict on both sides are welcomed into Mustapha's classrooms as a sign of the reconciliation he hopes to achieve in the region.
"Conflict can leave children with physical and emotional scars that are deep and lasting. It forces them from their homes, exposes them to unspeakable atrocities, and often rips apart their families," said UN High Commissioner for Refugees Filippo Grandi.
"Education is one of the most powerful tools for helping refugee children overcome the horrors of violence and forced displacement. It empowers young people, equips them with skills and works to counter exploitation and recruitment by armed groups," Grandi added. "The work Mustapha and his team are doing is of the utmost importance, helping to foster peaceful coexistence and rebuild communities in north-eastern Nigeria. With this award, we honour his vision and service."
The announcement of this year's Nansen Refugee Award winner by UNHCR, the UN Refugee Agency, comes as tens of thousands of Nigerian youth are growing up without an education. The country's education sector is strained by its expanding youth population, and facilities in the north-east remain under attack by Boko Haram, who have destroyed schools and killed teachers.
"Schools lie at the heart of a society. Destroying them crushes the chance of Nigeria's next generation succeeding," said the Norwegian Refugee Council's Secretary General Jan Egeland, whose organization co-manages the Nanson Refugee Award project. "The recognition of Zannah Mustapha's brave work highlights the importance of education for the future of Nigeria."
In the decade since its inception, the school has swelled from 36 students to 540. Desperate for an education, thousands more children have added their names to its waiting list. In 2016, Mustapha opened a second school just a few kilometres away from the first. Eighty-eight children, all of whom have fled conflict in the region, walk through its classroom doors each day.
Mustapha's work in the region also includes negotiating the release of hostages. When the 21 young women who had been held captive for more than two years were released, Mustapha was there. He had been instrumental in securing their freedom – as well as the release of 82 additional Chibok girls in May 2017.
Mustapha and his volunteer group of educators know the risks they face, but their work is too important not to soldier on. "This school promotes peace," Mustapha said. "It is a place where every child matters," he added. "These children shall be empowered, empowered in such a way that they can stand on their own."
In addition to his education work, Mustapha has demonstrated a commitment to helping all parts of society affected by conflict. His support was instrumental in setting up a cooperative for widows, providing much-needed support for nearly 600 women in Maiduguri.
UNHCR's Nansen Refugee Award honours extraordinary service to the forcibly displaced, and names Eleanor Roosevelt, Graça Machel and Luciano Pavarotti among its laureates. The 2017 ceremony will be held on 2 October in Geneva, Switzerland.
Source: United Nations High Commissioner for Refugees
Reports on World Prayer Day -Willingness to take action in critical moments and emulate world peacemakers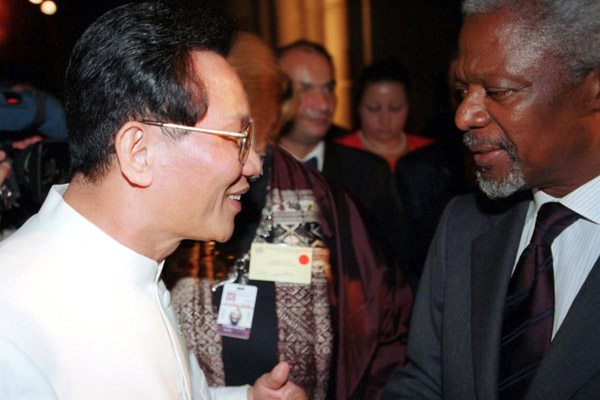 Puppet Show I International Friendship Day 2020

Tai Ji Men fight against 24-year defamation and for human rights