In Baghdad, UN chief underlines extreme concern about 'enormous' challenges Iraq faces
2016-03-27
Visiting Iraq on 26 March for the eighth time as United Nations Secretary-General, Ban Ki-moon said he is impressed by the progress made, particularly against the Islamic State of Iraq and the Levant, or Da'esh, but warned that he remains extremely concerned about the enormous challenges the country faces.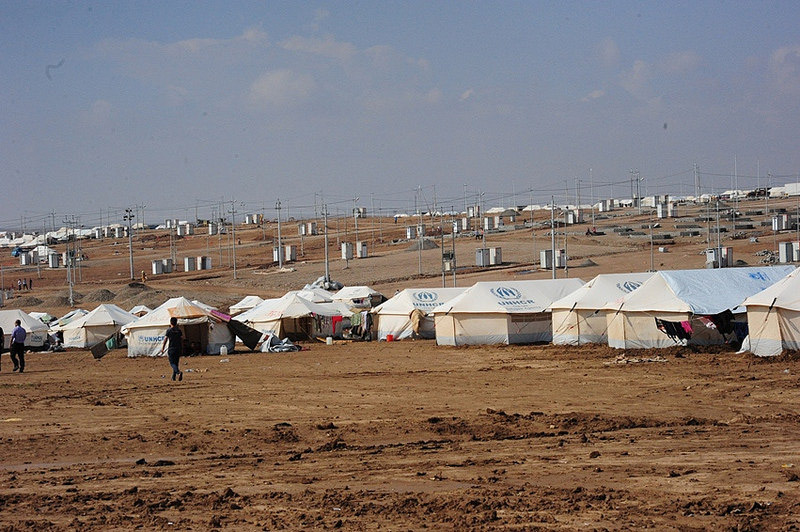 A refugee camp in Iraq.
"National reconciliation is an important part of the strategy to defeat Da'esh, who have ruthlessly exploited divisions and targeted the marginalized and disenfranchised," Mr. Ban said at a press conference following a meeting with Iraq's Prime Minister Haider al-Abadi, Foreign Minister Ibrahim al-Jaafari and other government representatives.
"We have just held constructive talks […] on the security, political, economic and social reforms, as well as humanitarian and human rights situation in Iraq," he indicated.
The UN estimates that ten million people require some form of humanitarian assistance and 3.3 million are internally displaced. Iraq is also among the most deadly countries in the world for civilians; last year, more than 7,500 people were killed in acts of terrorism, violence and armed conflict.
Joined by the presidents of the World Bank Group and of the Islamic Development Bank, the UN chief said their visit is a joint and combined demonstration of their support for the "noble" and at times difficult efforts of the Iraqi Government in securing peace and stability through national reconciliation and socio-economic reforms.
"I reiterate my call on Iraq's regional and international partners to lend their support to the Government and people of Iraq in this fight. This support must be provided in full coordination and consultation with the Government of Iraq and with respect for the country's sovereignty and territorial integrity," he added.
Mr. Ban saluted the Iraqi people for their sacrifices, patience and resilience in the face of Da'esh's "murderous campaign," and offered them his sincere condolences for the "countless lives lost." Yesterday, a terrorist attack in Iskanderiyeh, south of Baghdad, targeted civilians who were playing in a football stadium.
"That means these terrorists don't care where and when and whom. This is totally unacceptable and should be defeated in the name of humanity," he warned, adding that Da'esh has subjected all Iraqis, but particularly minority communities, to murder, abduction, rape and other sexual violence.
"By destroying and looting property and places of religious and cultural significance, Da'esh are attempting to eradicate the identity and unity of Iraq and its people. Some 3,500 women, mainly Yezidi, remain enslaved and subjected to horrific violations on a daily basis," he reported.
Underlining that Iraq also faces enormous economic challenges—including the falling price of oil, inefficiencies and corruption—Mr. Ban stated that the international community is ready to offer more support, but Iraqis themselves must implement reforms that will put their country on the road to recovery. "These reforms must include measures to empower women and young people, and to bring [about] greater social cohesion," he insisted.
Meanwhile, in an address to Iraq's Council of Representatives, the Secretary-General highlighted how significant areas, including Ramadi, have been liberated from the terrorist group.
"The bravery of the Iraqi Security Forces, Peshmerga, Popular Mobilization Forces and tribal fighters is admirable. Da'esh is losing its appeal to Iraq's communities," he declared.
Mr. Ban also paid tribute to the Parliament for their part in stabilizing Iraq and building peace for the future. "In the year since my last visit, you have endorsed the important budget law for 2016 and other important legislation," he said.
He called on the political leaders to continue their efforts towards a single, unified vision to advance national reconciliation, and urged them to base their response to Da'esh, and all other security operations, firmly on international law, particularly human rights and humanitarian law.
He also reminded the Members of the Council that the United Nations and the World Bank are their partners in addressing human development needs, including healthcare and education.
Source: United Nations
Puppet Show I International Friendship Day 2020
Tai Ji Men fight against 24-year defamation and for human rights