Men Have Greater Self-Esteem Than Women, Especially in Developed Nations
Study also finds that personal confidence grows with age.
2016-01-05
Self-esteem increases as people grow older, and men tend to have higher levels of it than women do, a new international study finds.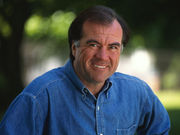 The gender gap in self-esteem was found worldwide. But the research revealed this self-esteem gender gap is widest in Western nations.
The researchers examined data collected from more than 985,000 people. The information came from 48 countries between 1999 and 2009. Study participants were between the ages of 16 and 45.
Overall, self-esteem tended to increase with age, the researchers found. Men at every age tended to have higher levels of self-esteem than women, they said.
But there were notable differences between nations.
Wealthier, developed nations with higher gender equality had larger gender gaps in self-esteem than poorer, developing nations with greater gender inequality, said the study.
"This is likely the result of specific cultural influences that guide self-esteem development in men and women," expert said.
For example, gender differences in self-esteem levels were small in Asian countries such as India, Indonesia and Thailand. But these differences were larger in countries such as the Netherlands and the United Kingdom, the study showed.
While there are cultural differences, the most surprising finding is that gender and age affect the self-esteem of people worldwide, the researchers said.
"This remarkable degree of similarity implies that gender and age differences in self-esteem are partly driven by universal mechanisms; these can either be universal biological mechanisms such as hormonal influences or universal cultural mechanisms such as universal gender roles. However, universal influences do not tell the whole story," expert said.
"The differences in magnitude and shape of gender and age differences in various countries provide strong evidence for culture-specific influences on the development of self-esteem in men and women," expert added.
Until now, most research on self-esteem has been limited to Western nations, expert noted.
The new research adds to the understanding of how culture may shape self-esteem. And, with further study, this information may help lead to better ways to "promote or protect self-esteem."
Source: U.S. Department of Health & Human Services
Puppet Show I International Friendship Day 2020
Tai Ji Men fight against 24-year defamation and for human rights