New UNICEF report ranks children's well-being in 29 of world's richest countries
2013-04-11
The Netherlands, along with four Nordic countries – Finland, Iceland, Norway and Sweden – top a United Nations list released Wednesday, which ranks children's well-being in 29 industrialized countries, while Greece, Italy, Portugal and Spain are at the bottom.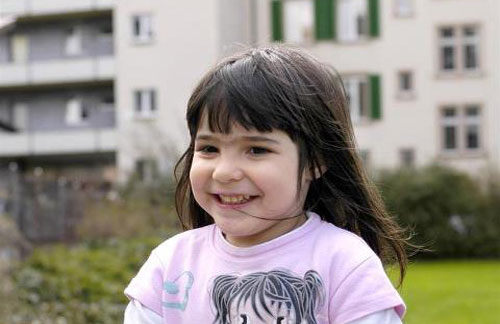 A girl plays in Zurich, Switzerland, which ranks 8 out of 29 in a new study on child well-being in rich countries.
The rankings are part of a UN Children's Fund study entitled 'Report Card 11: Child well-being in rich countries,' which charts the achievements of the world's most advanced economies from 2000-2010.
The study found that child poverty in these countries is particularly susceptible to governments' policies, and warns against measures that cut services and protection to children, as they are a highly vulnerable part of the population.
"Whether in today's time of economic crisis, or in better financial periods, UNICEF urges governments and social partners to place children and young people at the heart of their decision-making processes," said the Director of UNICEF's Office of Research, Gordon Alexander.
"For every new policy measure considered or introduced, governments explicitly have to explore the impact and effects on children, families with children, adolescents and young adults. These groups do not have a voice in the political processes or their voices are too seldom heard."
The study measures development according to five dimensions of children's lives: material well-being, health and safety, education, behaviour and risks, and housing and environment.
The dimension of behaviours and risks is one of the more difficult to pin down. For example, factors that were evaluated include the percentage of children who are overweight or the percentage who report eating breakfast every day.
In addition, indicators like teenage fertility rate, alcohol abuse rate and exposure to violence were used to measure child well-being.
For example, only Canada, Greece and the United States have childhood obesity levels higher than 20 per cent. Meanwhile, Romania, the United Kingdom and the United States have the highest rates of teenage births.
On the positive side, the overall figures for these countries show that 92% do not smoke cigarettes, while 85% do not get drunk.
These dimensions are not entirely dependent on a country's wealth, as the study did not find a strong relationship between income per capita and overall child well-being. For instance, Slovenia ranks higher than Canada, the Czech Republic higher than Austria, and Portugal higher than the United States.
The measurement of child wellbeing, however, is a relatively new area of study and the overview presented here remains a work in progress. Chief among its limitations is the fact that internationally comparable data on children's lives are not sufficiently timely.
UNICEF stated that the current findings show progress, but warned that the study was carried out before many countries implemented austerity measures and budget cuts because of the economic crisis.
Report Card 11 also includes the views of the children themselves on their own life satisfaction. These findings are broadly in line with the data-based measurement of child well-being, with some notable exceptions: children in Estonia, Greece and Spain gave their countries a much higher ranking, while Germany, Luxembourg and Poland ranked lower.
UNICEF says that it is important to hear what matters to children, and to do this in a more systematic way. "Children's voices even at a very young age are vital," said Mr. Alexander. According to him, "Governments need to guide policies in a way that will safeguard the long-term futures of their children and economies. This has never been more urgent than in today's climate."
Source: UN News
Puppet Show I International Friendship Day 2020
Tai Ji Men fight against 24-year defamation and for human rights