Zimmerman charged with black teen's killing
2012-04-13
A neighbourhood watch volunteer has been charged with second-degree murder for the fatal shooting of unarmed black teenager Trayvon Martin, a case that has caused outrage across the US.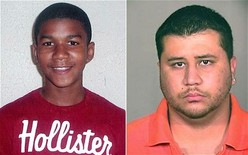 Florida state prosecutor Angela Corey said that George Zimmerman, 28, was charged over the killing of 17-year-old Trayvon.
Zimmerman, who turned himself in to the authorities, has been placed in police custody at an undisclosed location in Sanford, the Florida town where Martin was killed Feb 26.
Corey told reporters that prosecutors did not come to the decision "lightly".
Under US law, second-degree murder is defined as an intentional killing that is not premeditated or planned.
Corey said they would hold a news conference later this week to discuss "new information" about the case.
The shooting sparked widespread protests across the US as it emerged that Trayvon was unarmed when Zimmerman shot him dead.
The killing of the teen triggered a debate about race and the laws of self-defence and even President Barack Obama had remarked: "If I had a son, he would look like Trayvon."
Trayvon's parents said the charge against Zimmerman was a first step towards justice but there was "a long way to go".
Zimmerman was initially not arrested as police said he was protected by a controversial state law that allows people to use lethal force to defend themselves if they feel threatened.
He told police Trayvon had attacked him, and banged his head against the pavement, after Zimmerman chased him for "looking suspicious".
Zimmerman, who is white and of Hispanic heritage, claimed he had acted in self-defence.
However, the Martin family claims he acted in cold blood and because of Trayvon's race and dress.
Lawyers for Trayvon 's family say he was walking to a corner shop to buy sweets when he was killed.
Source: North America News.Net