Building a Peaceful Civilization - Part 1 Follow the Law of Nature to Achieve Sustainable Development Generate Positive Energy by Awakening People's Conscience
2023-01-27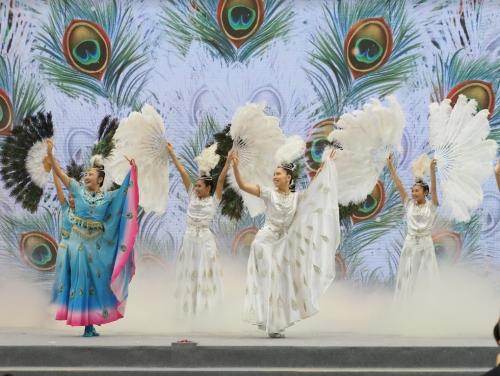 The Peacock Dance of Tai Ji Men embodies the concept of selfless promotion of positivity to hope for world peace and security.
As 2022 comes to an end, it is the ideal opportunity for people to reflect on the significant worldwide events that took place this year as well as other noteworthy incidents. After bidding farewell to the twentieth century, which saw the outbreak of World Wars I and II, we face even more turbulent times in this century. The United Nations and international non-governmental organizations have repeatedly called for the resolution of differences and conflicts. However, problems like the Russo-Ukrainian war, extreme weather, and epidemics have not been resolved, and the world has yet to achieve true peace. The "Declaration for the Movement of An Era of Conscience" points out, "Conscience is the positive energy that stabilizes the world. The balance of technological development and spiritual enlightenment with conscience will generate opportunities of life and foster economic development with environmental protections." Global citizens are interdependent and inextricably linked. Everyone is encouraged to respond to international and national crises with compassion, courage, and true wisdom, and to actively seek peace, harmony, and win-win solutions for the benefit of the earth and the world.
Human Rights Education for Love and Peace - April 1, World Citizenship Day
April 1st is "World Citizenship Day." As the "Peace Declaration" emphasizes, "To overcome the culture of war that ravaged the twentieth century, we must create a new culture of peace as specified by the United Nations 53rd Session of the General Assembly, and its plan of action. This could be the foundation of a new civilization based on respect toward all life, with peace in our hearts and love of the world, with better communication among human beings, through cultural exchange programs, through peace education, and where human progress is measured not merely in economic gain, but through compassion and caring for others."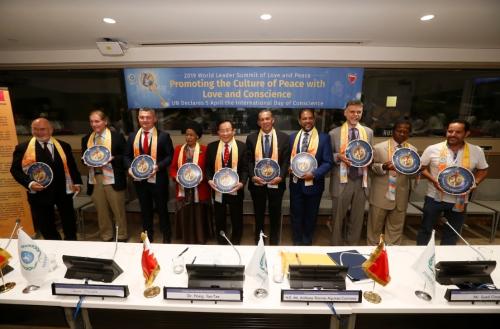 Dr. Hong, Tao-Tze; former President of Trinidad and Tobago Anthony Thomas Aquinas Carmona; former UN Under-Secretary-General Ms. Anna Tibaijuka, and representatives from various countries to the United Nations celebrated the UN's designation of April 5 as the International Day of Conscience at the UN in New York in 2019.
Always Act with Conscience - April 5, International Day of Conscience
The United Nations designated April 5 as the "International Day of Conscience," aiming to inspire global citizens to act with conscience. The United Nations General Assembly adopted a resolution titled "Promoting the Culture of Peace with Love and Conscience" on July 25, 2019, declaring April 5 as the "International Day of Conscience," reminding people to change themselves, their communities, and the world by following the guidance of their conscience, which is the most fundamental way to achieve world peace.
The Key to Changing the Destiny of Humankind - September 15, International Love and Peace Day
"International Love and Peace Day" is celebrated on September 15th. As stated in the Declaration of International Love and Peace Day: "The world is like a great gear in motion. Heads of State and world leaders are the keys to moving the world forward. Our destiny in this world is tightly intertwined and in our hands we hold the state of balance for world peace."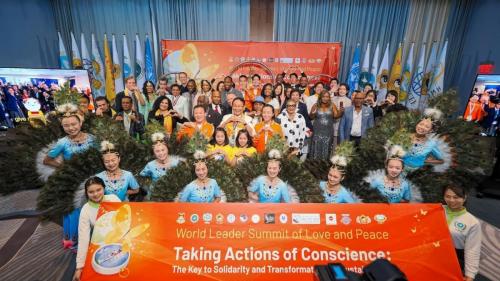 On September 23, 2022, the "World Leader Summit of Love and Peace" was held with over 100 leaders from 27 countries in attendance.
Transform the World with the Power of Hope - September 23 Declared as World Day of the Power of Hope
September 23 is the World Day of the Power of Hope, which serves to inspire global citizens to follow their conscience and take action to fulfill their hope for the safety and sustainable development of themselves, others, and the world. As the "Declaration of World Day of the Power of Hope emphasizes, "Global security and stability is predicated on the awakening of everyone's conscience, from which compassion, good deeds, and the power of hope are derived. When people follow the guidance of their conscience and illuminate their inner lights, they become a beacon, bringing hope in all corners of the world."
Praying with Conscience and Doing Good with Sincerity - October 16 Declared as World Prayer Day
October 16 is "World Prayer Day," which aims to encourage people to pray with conscience and love, do good deeds, and promote world peace. It is hoped that the wars and the pandemic will end soon and that the world will be blessed with safety, peace, and prosperity.
Upholding Human Dignity - December 19 Declared as International Day Against Judicial and Tax Persecution by State Power
Dr. Hong, Tao-Tze declared December 19 as the International Day Against Judicial and Tax Persecution by State Power, emphasizing, "This day honors the victims around the world whose basic rights to life and cultural rights have been violated by governmental abuses of power, using judicial or tax measures as weapons. This day also serves to urge governments around the world to implement the core principles of the Universal Declaration of Human Rights, uphold human dignity, forbid public authorities from discriminating against any individual or group, protect fundamental and equitable taxpayer rights, as well as defend cultural rights and the freedom of religion, belief, and expression. This day also aims to inspire more people of conscience around the world to take note of this issue and to dedicate efforts toward safeguarding human rights and speak up for it."
【Special Report】Building a Peaceful Civilization - Generate Positive Energy by Awakening People's Conscience
http://en.worldpeoplenews.com/sites/en.worldpeoplenews.com/files/peaceci...