International Conference of Chief Justices of the World Advancing World Peace with Hope and Actions of Conscience
2023-01-25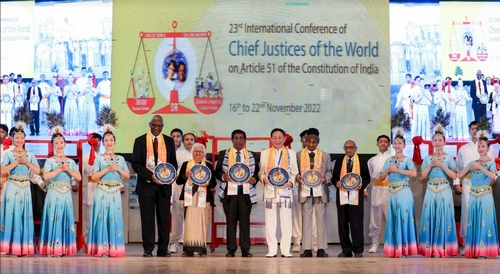 Four leaders, including President of Mauritius Prithvirajsing Roopun, rang the Bell of World Peace and Love, supporting the International Day of Conscience.
The 23rd International Conference of Chief Justices of the World was held in India on November 16-22, 2022 by the world's largest school, the City Montessori School (CMS). Under the theme of "Global Governance for a Sustainable World Order," 263 dignitaries, including chief justices, judges, heads of state, presidents of parliaments, as well as ministers of justice, foreign affairs, and education from 65 countries attended the conference.
FOWPAL had been invited 13 times over the years, and this was their 11th time attending the annual event. Dr. Hong, Tao-Tze, president of FOWPAL and leader of Tai Ji Men, led a delegation that consisted of 63 representatives from six international organizations, bringing messages of conscience, love, and peace.
On November 18, Indian Defense Minister Shri Rajnath Singh rang the Bell of World Peace and Love, stating, "Vasudhaiva Kutumbakam. The Whole Earth is One Country (One Family)."
Dr. Hong, Tao-Tze delivered a speech titled "Optimizing Global Governance with Love-Based Education: Advancing World Peace with Hope and Actions of Conscience" at the November 19 conference. He stated, "The global governance that the world needs now cannot depend on the promotion by a single transnational group or organization. A more efficient way is for world citizens to start 'governing' from within by loving themselves, finding inner peace and balance, listening to their conscience from the depths of their hearts, and becoming seeds of love and conscience. From there, people may gradually expand their influence."
Dr. Hong proclaimed the Declaration of World Day of the Power of Hope, declaring September 23 as the "World Day of the Power of Hope" to encourage people to advance world peace with hope and actions of conscience and work together to ensure the safety and continued existence of humanity.
FOWPAL hosted a bell ringing ceremony, where four distinguished guests rang the Bell and made wishes for peace.
President Prithvirajsing Roopun of Mauritius rang the Bell and stated, "In this globally connected world with such profound and rapid changes, let us be inspired by Mahatma Gandhi's spirit of love, compassion, peace and unity and resolve to work hands in hands to achieve Agenda 2030."
Sir Rodney Williams, Governor-General of Antigua and Barbuda rang the Bell and stated, "I wish that we can educate the young people of the world to be game changers and peace lovers, making our world a better place."
Dr. Bharti Gandhi, the founder and director of City Montessori School, rang the Bell and said, "May peace prevail on earth."
Ratan Chandra Gupta, the General Secretary of City Montessori School, rang the Bell and said, "I sincerely wish for peace in the world along with unity without which there can be no development and eradication of poverty and hunger. This is the beginning of an Era of conscience."
For decades, Dr. Hong, Tao-Tze, leader of Tai Ji Men, has led the Love of the World Cultural Goodwill Group to every populated continent, visiting 101 countries to promote a culture of conscience, love, and peace, forging many international friendships and winning worldwide recognition. During an ancient ceremony of ringing the Bell of World Peace and Love, the bell ringers' respect for nature and wishes for peace will be spread through the sound of the bell, bringing positive energy to all, facilitating ecosystem restoration. To date, 451 influential leaders from 128 countries, including 51 heads of state and government and seven Nobel Peace Prize laureates, have rung the bell and made their wishes for peace.
Three bell ringers, President Fradique de Menezes of Sao Tome and Principe (2001-2011), President Abdoulaye Wade of Senegal (2000-2012), and President Leonel Fernández of the Dominican Republic (1996-2000 and 2004-2012), rang the bell and made wishes for peace during their tenure and later mediated between neighboring countries to defuse potential wars, fulfilling their promises to help stabilize and sustain the Earth.
【Special Report】Taking Actions of Conscience, 52 Influential Leaders Ring Tai Ji Men's Peace Bell to Pray for World Peace More link: http://en.worldpeoplenews.com/sites/en.worldpeoplenews.com/files/50influ...