IRF Summit 2022 Co-Chairs Ring Peace Bell and Pray for Peace and Justice
2022-07-22

Aftering ringing the Bell of World Peace and Love, IRF Summit 2022 Co-Chairs Dr. Katrina Lantos Swett, left, and former U.S. Ambassador-at-Large for International Religious Freedom Sam Brownback hold hands with Dr. Hong, Tao-Tze to show solidarity for the promotion of love and peace in the world. (AP Images)
The International Religious Freedom (IRF) Summit 2022 took place on June 28-30 in Washington, D,C., with former U.S. Ambassador-at-Large for International Religious Freedom Sam Brownback and Dr. Katrina Lantos Swett, president of the Lantos Foundation for Human Rights and Justice, as co-chairs. The event brought together global religious, political, and academic leaders as well as religious freedom advocates and persecuted religious groups or individuals. Approximately 1,000 people attended the conference. The Summit Co-Chairs Amb. Sam Brownback and Dr. Katrina Lantos Swett rang the Bell and made wishes for peace.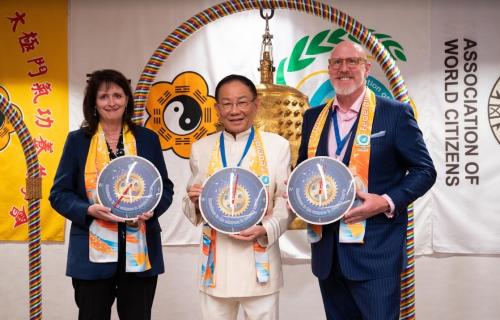 President of the International Religious Freedom Secretariat and former USCIRF Chair Nadine Maenza, left, and USCIRF Commissioner David Curry, right, are presented with the Compass Clock of Conscience by Dr. Hong, Tao-Tze. (AP Images)
Ambassador Sam Brownback rang the Bell and stated, "I pray for peace that surpasses understanding for everyone!" Amb. Brownback once stated that freedom of religion is a fundamental human right, without which humanity cannot flourish, emphasizing, "We believe governments' role is to protect that innate right of a person to select their own course of future for their soul."
Dr. Katrina Lantos Swett rang the Bell and stated, "I pray daily for peace but also for justice because without justice and freedom - especially freedom of religion and belief, there cannot be any peace." She expressed her gratitude to Tai Ji Men, saying, "I am grateful for the spirit of this wonderful community."
Bishop Gregory Mansour of Saint Maron of Brooklyn rang the bell and stated, "The beauty of the Tao, the Way will make us better people, closer to the eternal Tao." Bishop Mansour talked about conscience, which Tai Ji Men and FOWPAL have been promoting around the world: "So your emphasis on conscience, we Catholics believe that it is in our conscience that guides us." "So the conscience is like the Tao. There's a natural law, there's a wisdom in nature," he added.
Three additional leaders also rang the Bell: David Curry, commissioner of the United States Commission on International Religious Freedom (USCIRF) and president and CEO of Open Doors USA; Nadine Maenza, president of International Religious Freedom Secretariat and former chair of USCIRF; and Bishop Dr. Sunday Onuoha, founder and president of Vision of Africa. They wished for religious freedom for everyone and world peace.
We Can Change the World Endorse Declarations on Conscience
For more than 20 years, Dr. Hong, Tao-Tze has led delegates from Tai Ji Men and FOWPAL to 101 countries on six continents, actively promoting the culture of peace, love, and conscience around the world. These delegates took leave of absence, self-funded their trips to promote international cultural exchanges through the power of the people, and carried the 240-kilogram Bell of World Peace and Love with them, hoping that peace would spread with the sound of the Bell, praying for blessings of all creatures and ecosystem restoration.
To date, 423 influential leaders from 128 nations, including 49 heads of state and government and seven Nobel Peace Prize laureates, have rung the Bell and contributed to global peace and sustainability! Three bell ringers, President Fradique de Menezes of Sao Tome and Principe (2001-2011), President Abdoulaye Wade of Senegal (2000-2012), and President Leonel Fernández of the Dominican Republic (1996-2000 and 2004-2012), for example, rang the Bell and made wishes for peace during their tenures and later mediated between neighboring countries to defuse potential wars, fulfilling their promises to help stabilize and sustain the Earth.
In these times when natural and man-made disasters occur frequently, Dr. Hong, Tao-Tze's advocacy of fostering a culture of peace with love and conscience has not only influenced leaders around the world, but also created a butterfly effect of goodness around the world. He has been promoting endorsement campaigns for various declarations. To date, the Declarations for Human Rights of World Citizens and Peace have been endorsed by over 3.7 million people in 190 nations, and the Declaration for the Movement of An Era of Conscience and Declaration of International Day of Conscience have been endorsed by over 330,000 people in 199 nations. Everyone is encouraged to endorse the declarations online. It is hoped that global citizens will work together for a peaceful world where people act with their conscience, everyone is joyful, and every family is happy.
Global Endorsement (taijimen.org)