A Courageous Battle for Human Rights Out of Love for Taiwan
2022-01-20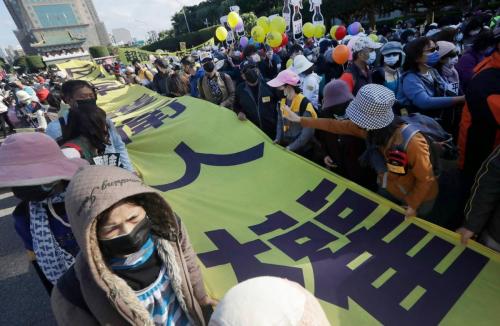 Protesters hold a long banner reading "Rescue Human Rights" to demand that the Taiwanese government rectify the Tai Ji Men case and protect human rights on the 25th anniversary of the onset of the Tai Ji Men case, in Taipei, Taiwan, Dec. 19, 2021. (AP Images)
The Tai Ji Men case, a major human rights infringement case, began in Taiwan on December 19, 1996. This case, which has been ongoing for 25 years, has been brought to the attention of the United Nations Human Rights Council. On December 19, 2021, the Tax and Legal Reform League, the Taiwan Association for Financial Criminal Law Study, the Action Alliance to Redress 1219, and other non-governmental organizations encouraged the people of Taiwan to fearlessly gather in front of the Presidential Office Building to advocate for taxpayer rights.
This was the 12th demonstration at this place for this important cause, in the hopes that Taiwan's human rights situation will improve and conform to the ICCPR and ICESCR, and that no more Taiwanese will suffer human rights abuses. A moving video was shown at the rally, depicting the courage of the Tax and Legal Reform League volunteers in their fight for the truth out of love for the country and the world.
Prosecutor Hou Kuan-jen abused his power 25 ago when he investigated Tai Ji Men, a spiritual group that practices qigong and martial arts. He later accused the organization and its leader of "raising goblins" when he couldn't find any criminal evidence against them. That has become an international laughingstock! Kenneth Jacobsen, law professor at Temple University, Philadelphia, and former adviser to President Bill Clinton, said, "It is not due process to accuse a human being in a civilized society of raising goblins. The mere statement of that would cause individuals and should cause individuals to question the sanity of the prosecutor." Taiwan's National Taxation Bureau even relied on prosecutor Hou's false indictment to issue unjustified tax bills to Tai Ji Men. Although all the evidence indicated that this is a fabricated case of human rights violations, after 25 years, the National Taxation Bureau still refused to acknowledge its mistake and revoke the illegal tax bills. Thierry Valle, director of the ECOSOC-accredited NGO - Coordination des Associations & Particuliers pour la Liberté de Conscience (CAP-LC), mentioned that its organization brought the Tai Ji Men case and the injustice Tai Ji Men suffered in Taiwan to the attention of the UN Human Rights Council twice in 2021, criticizing the Taiwanese government for persecuting Tai Ji Men by using taxation as a weapon.
On December 19, 2021, people gathered on Ketagalan Boulevard in Taipei to demand human rights protection and showcase their creativity. Some government officials have been cruel and have bullied and smeared innocent people. Protesters combined current events with eye-catching costumes to criticize those bureaucrats who are indifferent to the people's suffering caused by wrong administrative actions. The bonus system for tax collecting is like a virus that is corroding Taiwan's democratic system little by little. Legislators, council members, community leaders, scholars, and experts from various fields also attended the rally to show their support, pointing out the unscrupulous officials' violations of the law in the fabricated Tai Ji Men case.
Ann Chen, a Tai Ji Men dizi (disciple) and a dual licensed attorney in Taiwan and California, said it's incredible that the quarter-century-old Tai Ji Men case has remained unresolved, adding that it's a violation of people's human rights and freedom of religion or belief through the judicial and tax systems. Damon Tsai, another Tai Ji Men dizi and a manager for a U.S. company, said that at a time when Taiwan needs international friends, the persistent human rights violations by a small number of government officials are hurting Taiwan's international image.
Netizens who were watching the "Wake Up to Rescue Human Rights" event online posted supportive notes. "It's difficult for individuals who haven't gone through the difficulties of seeking redress of grievances to appreciate the magnitude of the sorrow of the victims in this case," said Amy Han, "Only by truly rectifying the unjust case, can we prevent more people from being persecuted by the government through state violence!" Ms. Chen stated, "Who can believe that a contrived case can drag on for 25 years, and that a few rogue officials can harass citizens and jeopardize the country's justice, democracy, and freedom? Tai Ji Men's 25-year ordeal has been filled with blood and tears, and their perseverance aims to prevent others from suffering the same injustice." According to Star Star, "Injustice against one person is injustice against all of us. Let's all stand up and speak out against tax violence to protect taxpayer rights in Taiwan."
In order for Taiwan to become a true beacon of democracy in Asia, all of its citizens must stand up and urge the government to implement reforms, identify and severely punish government officials who break the law, and redress unjust cases, according to the Action Alliance to Redress 1219.
Puppet Show I International Friendship Day 2020
Tai Ji Men fight against 24-year defamation and for human rights