Global Voices on the 14th Anniversary of Tai Ji Men's Acquittal - Part IV
Uphold the moral and conscience, the government should stand for Reform and debug
2021-10-12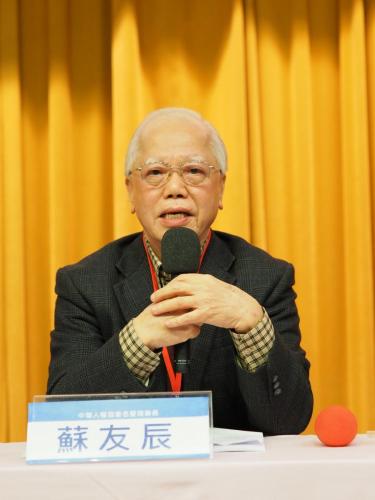 Yiuchen Su, Honorary Chairman of the Chinese Association for Human Rights/Attorney
Su Youchen, Honorary Chairman of the Chinese Association for Human Rights said, The national taxation Bureau rushed to issue bills before reached a verdict, and these tax bills have been spreading like a virus. It should have been redressed under Administrative Procedure Act Article 117 and the retrial procedure, but the interpretation of the current law restricts the people's right to relief. Ever since Taiwan implements the two conventions "The International Covenant on Civil and Political Rights (ICCPR) and The International Covenant on Economic, Social and Cultural Rights (ICESCR)", and the national human rights report should reflect any violation. But it's not. It is recommended that the government aggressively fixing the law and establish an effective relief system, which is retrospectively, and make national compensation available. Just like the European Court of Human Rights accepts rulings on human rights violations by government agencies. Thus, the fruit of Tai Ji Men's 25 years of pursuit of justice and perseverance will benefit innocent tax victims. It will be boundless merit.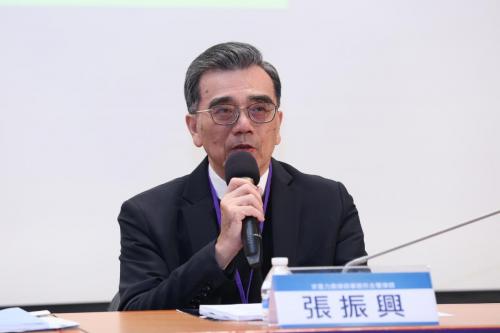 Henhsing Chang, an attorney at Chiu Shih Li Ting Law Firm
Henhsing Chang, an attorney at Chiu Shih Li Ting Law Firm said, From the point of view of criminal law and human rights, a taxation case based on indictment of criminal cases, is the theory of a poisonous fruit from Ca tree. The tree grows from the poisonous ground, thus its fruit is poisonous and cannot be consumed; The verdict of Tai Ji Men criminal case was no fraud. The Control Yuan twice investigated and confirmed that the prosecutor and the NTB violated the law. But Tai Ji Men's property was forcibly auctioned off the law illegally, instead, the illegal officials had not been punished. He sighed: "It's ridiculous!"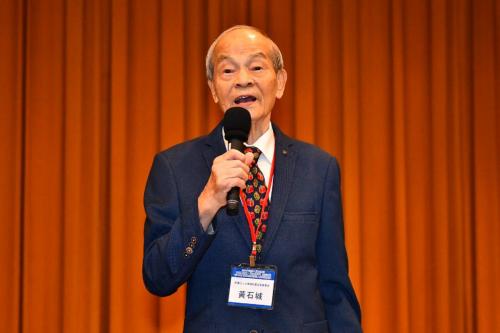 Shihcheng Huang, Chairman of the Taiwan Heritage Foundation
Shihcheng Huang, the chairman of the Taiwan Heritage Foundation, said through a representative: "National Taxation Bureau made a serious mistake of violating the law that the Presidential office and the 5 branches of the government would not do anything to protect its people!" He urged that law violating officials should be brought to justice.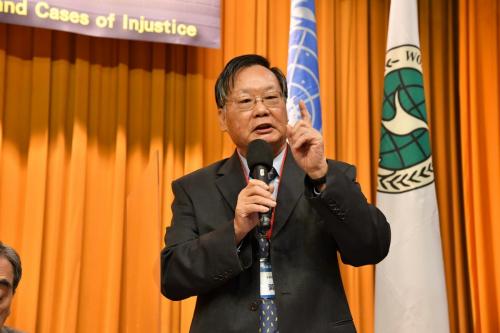 Kunkuang Huang, former Senior Auditor of the National Taxation Bureau of Kaohsiung
Kunkuang Huang, the former Senior Auditor of the National Taxation Bureau of Kaohsiung, said that for 55 years, Tai Ji Men master teaches his disciples to cultivate their minds and nurturing spirit, and promoting the traditional culture, and spreading kindness. Tai Ji Men has been illegally taxed and levied illegally In the past 25 years, which causes injustice to tens of thousands of disciples and their families, and still not able to be redressed. Tai Ji Men's persistence could bring hope for many other taxation victims including those who have no income but are being taxed for huge taxes. He pointed out that history has taught us that injustice taxation was the reason that most regimes or dynasties fell out.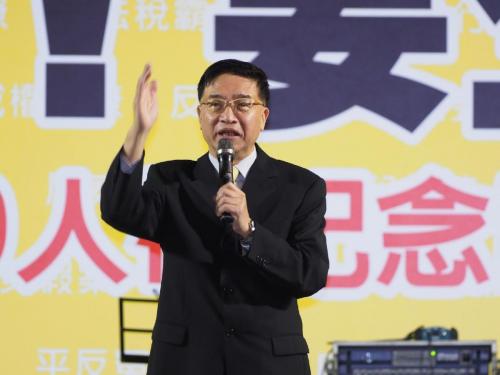 Famous political commentator Hu, Zhongxin
Famous political commentator Hu, Zhongxin shares the story of Luke chapter 19 of the New Testament. Zacchaeus was a tax collector during the Roman Empire. Everyone despises him for his extortion taxation. Later he was inspired by Jesus. He donated half of his fortune, and gave back four times to those victims whom he levied. Hu, Zhongxin hopes that Taiwan's tax officials will uphold their moral conscience, thoroughly correct their mistakes, and implement the universal values of freedom, democracy, and human rights.
Puppet Show I International Friendship Day 2020
Tai Ji Men fight against 24-year defamation and for human rights