A public trial to examine the facts and see the volunteers' commitment to justice
Conscience Awakens to Sustainable Development
2021-10-03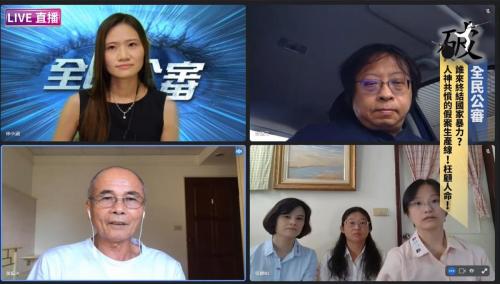 The Public Trial: Investigate the facts to raise legal and tax issues to the public's attention
The people are the government's bosses, concerned about legal and fiscal change and speaking out for justice as a group. Every Sunday at 4:00 p.m., the online forum "Public Trial" has been broadcast for more than six years. On September 19, in honor of the International Week of Love and Peace, a unique show will be televised, which will be greatly awaited. "Who will end state violence?" Fake production line! No regard for human life!" caused a warm response. The "Taijimen Fake Case" revealed many of the government's dark secrets. The tax officer Shi Yusheng cooperated in the perjury, and finally the executive branch even rushed to auction the people's property knowing that the execution of the fake production line in Taiwan, the source of which was led by the prosecutor Hou Kuanren forgery, was illegal, and was talking about the performance before the auction, inheriting Taiwan's white terror, the means of combating fake spies during the terrorist period, the state violence is simply a change of soup but not a change of medicine.
The program aired the documentary "The Truth", a reenactment of the December 19, 1996 search of the Tai Ji Men and the homes of some of its disciples by Prosecutor Hou Kuan Yan., which involved not only abusive prosecution, but also false statements, intimidation of defendants, illegal searches, and even the bizarre "raising of children" in the indictment, as well as the outrageous practice of finding evidence and questioning the victims only after the indictment was filed. Many of the victims have come forward to complain about their painful experiences of persecution.
JIA-JI, a 78-year-old volunteer, says there will be no more persecuted tax victims in Taiwan
"I don't know how much longer I have left to live, but I intend to devote the rest of my life and time to advocating for tax reform in the hopes of ensuring that no more tax victims are persecuted in Taiwan. Hou Kuan-Jen once brought the media to the Taijimen Nangang Academy to search it, and he noticed a peach wood sword on the table, which he said was proof that he was rearing children. Huang JIA-JI answered to him at the time, "What exactly do you know? Do you have any idea what a peach wood sword is for? Your father was the ' Taoist Spirit medium' of a temple in Liuziu Township, Chiayi County. Hou Kuanren snatched the peach wood sword away in the end. "In reality, a sister bought this peach wood sword as a gift to Sifu in an art store as a token of thanks to Sifu." Huang JIA-JI said.
Last year, the Tax Bureau and Administrative Enforcement Agency illegally auctioned Tai Ji Men's sacred land in Miao Li, which was intended for practice usage, according to Chia-Chi Huang. The area hasn't been delineated yet, and the land officer estimates that it will take at least three months to complete. Many experts and scholars claimed that the reason why the Administrative Enforcement Agency's hurry to close the case stemmed from the fact that the Enforcement Agency and the Tax Bureau both stand to benefit from enforcement bonuses and taxation bonuses. If these bonuses are not eliminated, the number of unfair tax cases will rise rather than fall.
Wan Ting Chang's unfulfilled wish: Uphold justice, Rectify Tai Ji Men fabricated case
Wan Ting Chang's three daughters claimed 100 days after his death, "Our father fought for justice till the last minute of his life." They revealed Taiwan's previously unseen dark side. The eldest sister, Ching-Wen Chang, stated, "We merely practice Qigong in Tai Ji Men, what did we do wrong?" They were terrified of being overheard and followed for an extended period of time. They were always afraid that their parents might be taken away. Her heart has been firmly planted by such a shadow. She vehemently criticized the state units were under Ho Kuan-jen's unlawful steering, which resulted in thousands of Tai Ji Men disciples being persecuted and suffering grievances. "Tai Ji Men 1219 case revealed corruption, bribery, and lawlessness in the National mechanism," she stated.
Wan Ting Chang had become Tai Ji Men dizi for almost 34 years. Kuan Jen Ho conducted an illegal investigation into Taijimen that year, and Mr. Chang was detained and interrogated without any evidence. Mr. Chang was threatened and intimidated into betraying his shifu by giving fake testimony. Mr. Ho even called Mr. Chang's firm, causing him to resign the next day as a consultant with a monthly salary of 200k. His credit rating was ruined and his family lost their only source of money and their lives were turned upside down.
Ching-Wen Chang claimed that in order for national relevant offices to hear our message, my father visited them all across the country and he even broke his hand. "When my father was in the Taipei tax Bureau office, a police officer pushed him down and he was sent to hospital with a concussion. In order to rectify illegal cases, my father frequently went to the Taipei tax Bureau and Administration Enforcement Agency, holding the sign and expressing our demand. He was unable to urinate because those state branches refused to let him use their restroom. He didn't have time to drink water either. He was too busy fighting for justice all day and night, and writing letters to President Tsai. He'd never stopped, whether the weather was sunny, rainy, windy, or chilly. He eventually passed out.
Last August, the government illegally auctioned and confiscated Tai Ji Men's land in Miao Li, which was designated for practice purposes. Wan-Ting Chang exclaimed on the spot, "Tai Ji Men had been found not guilty of fraud, tax evasion or violation of tax code by the Supreme Court after three criminal trials and all defendants had received national compensation. You still auctioned Tai Ji Men's land forcedly and illegally. Tai Ji Men is a spiritual organization. You persecute a spiritual organization, which implies you persecute culture, and you will be condemned."
Ching-Wen Chang tearfully stated, "My father's only regret was that he did not live to see the Tai Ji Men case resolved and justice served before he died. He instructed us that no matter what happened, we should follow Dr. Hong and Mrs. Hong's leadership and work together with members of Tai Ji Men to rectify our case till the end of our lives. We are Taiwanese, and we hope that the government will restore justice to us so that we can be truly proud to call ourselves Taiwanese."
Persist in justice until you die
According to Ching-Wen Chang, martial arts practitioners learn from the virtues of martial arts to stop fighting and promote goodness, as well as the chivalry of compassion and mercy. "To stop injustice is to be a true chivalrous warrior," Wan-Ting Chang once said, "and as a Tai Ji Men disciple (dizi), I should practice it with all my heart and soul. I hope that one day, government officials will listen to good advice and pass a judicial and tax law that will benefit all human beings and alleviate the suffering of the good people."
In Taiwan, which is recognized as Asia's beacon of democracy, Wan-Ting Chang took the most difficult road of his life. In his own case of persecution for his beliefs, he stood at the front line of the river of legal taxation and waved the flag in order to allow future generations to enjoy real taxation, human rights and the most basic freedom of belief that should be respected. His spirit will go on and inspire other people with conscience, resulting in a ten-million-person benefit.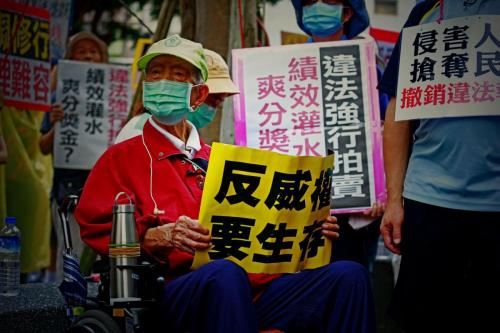 Centenarian Grandpa Pei-chao Li continued to promote legal and tax reform
Is the government listening to the people? Until his death last year, Grandfather Pei-chao Li, a 100-year-old Tax & Legal Reform League volunteer, insisted on standing on Ketagalan Boulevard and appearing at the Control Yuan to speak up for tax human rights in Taiwan. "I'm determined to complete these two steps and the pathway with my eyes closed. I wish for a secure and joyful future for the next generation." During his lifetime, he intends to contribute to society in some way that will benefit everyone, including future generations.
Puppet Show I International Friendship Day 2020
Tai Ji Men fight against 24-year defamation and for human rights