European and American Experts Disclose the Administrative Violence in Taiwan
Vital Evidence Revealed
2021-09-25

human rights and religious liberty experts, scholars and Tai Ji Men Dizis from different countries participate the webinar "International Day Commemorating the Victims of Acts of Violence Based on Religion or Belief".
The Associated Press reported on September 2 that a seminar was held on the theme of "Administrative Violence and the Tai Ji Men Case," reflecting the United Nations' " The International Day Commemorating the Victims of Acts of Violence Based on Religion or Belief." These four successive multinational online conferences covering experts and victims from Europe, the United States, and Taiwan. A significant video showing a tax collector colluding with an unscrupulous prosecutor to commit perjury was exposed in particular, shocking the public.
Konrad Swenninger, founder of the NGO Soteria International, introduced this shocking video. At the end of his terminal cancer life, the late tax collector Yueh-sheng Shih was interviewed in order to tell the truth about the investigation he was forced to comply with. Prosecutor Hou Kuan-jen pressed him to testify against Tai Ji Men. The main evidence that the prosecutor submitted to indict Tai Ji Men was the testimony by the tax collector Yueh-sheng Shih. Shih said in the video that Hou Kuan-jen is the lead 'director' of Tai Ji Men case, and calling him to testify is merely presented for show. In his opinion, taxation should be supported by evidence, and in the Tai Ji Men case, no clear explanation or evidence was provided for the calculation of the taxes. However, an officer of the Bureau of Investigation insisted that Shih did as he was told.
"It is a fundamental principle of justice to correct mistakes." Massimo Introvigne, editor-in-chief of Bitter Winter and scholars of Center for Studies on New Religious (CESNUR), noted the significance of tax bureaucrat's Yueh-sheng Shih retrospective testimony, which proves once and for all that what happened was not a mistake but the result of a conspiracy. It would be incredible if this would be regarded as not enough to rectify the Tai Ji Men case, Introvigne said.
The Action Alliance to Redress 1219, the Center for Studies on New Religious (CESNUR), and Human Rights Without Borders co-organized the event series. Dr. Hong, the Zhang-men-ren of Tai Ji Men, delivered a speech titled "Safeguarding Freedom of Religion or Belief with Love and Conscience," emphasizing the importance of human rights and conscience. " For those who can uphold their faith and belief, who will not compromise with any force of evil, and who will protect basic human dignity, safeguard their conscience, and defend human rights with love and conscience, are practitioners of self-betterment that can tell right from wrong, stand tall, and are brave and fearless!" Dr. Hong said.
Katrina Lantos Swett, president of the Lantos Foundation for Human Rights and Justice, and former chair of United States Commission on International Religious Freedom (USCIRF), stated many religious freedom experts throughout the world have condemned such administrative religious persecution as a result of a long-term attack on Tai Ji Men by a few bureaucratic dictatorships in Taiwan's tax agencies.
Thierry Valle, President of the Coordination des Associations et des Particuliers pour la Liberté de Conscience (CAP LC), announced that they filed a written declaration on the Tai Ji Men case and other issues to the United Nations Human Rights Council's 47th session, which was issued on June 21, 2021, denouncing the use of taxation as a weapon of discrimination against religious minority groups in many countries.
"This situation should never have arisen in the first place; it could have been resolved with a single stroke of a pen." Kenneth A. Jacobsen, law professor at Temple University in Philadelphia and former adviser to President Bill Clinton who has studied the Tai Ji Men case for years, has urged the president and others in power in Taiwan to do the right thing and rectify this egregious case of wrongdoing "The Taiwanese government, in my opinion, should do so right now.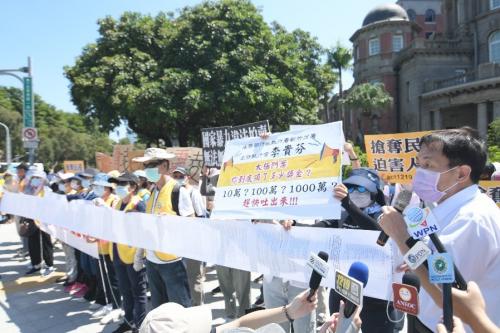 People protested in front of the Control Yuan and strongly appealed for the abolition of the bonus.
Willy Fautré, director and co-Founder of Human Rights Without Frontiers in Brussels, stated that some scholars believe the Tai Ji Men case was fabricated because National Taxation Bureau and Administrative Enforcement Agency officials expected to obtain lucrative bonuses after the auction.
Rogue bureaucrats damage Taiwan's image, Freedom of belief cannot be violated
A video of the recent protests by American dizis of Tai Ji Men in Washington, D.C. was shown in the webinar "International Day Commemorating the Victims of Acts of Violence Based on Religion or Belief". According to AP news's report, Tai Ji Men is a spiritual movement and has academies in Taiwan and the United States. In democratic Taiwan, Tai Ji Men was persecuted by means of prosecution on tax evasion. Although the Supreme Criminal Courts in Taiwan had ruled that Tai Ji Men had committed no crimes and was not guilty of tax evasion in 2007, the rogue bureaucrats continued to issue illegal tax bills. In 2020, they even auctioned the land belonging to Tai Ji Men illegally and confiscated it into state-own properties.
Hans Noot, president of the Gerard Noodt Foundation for Freedom of Religion or Belief in the Netherlands, noted that the actions of the rogue bureaucrats who violated Tai Ji Men's human rights did not bring any benefit to the government or the citizens of Taiwan. On the contrary, they seriously damaged the international image of Taiwan, as not only freedom of religion but also freedom of expression, freedom of association, and freedom of conscience were repeatedly infringed in the Tai Ji Men case.
The Venerable Ming Kuang, abbot of the Buddhist Haiming Temple, and chairman of the Conference of Religions of the Republic of China (Taiwan), mentioned the high moral responsibilities of those serving the government. Buddhism teaches that "there is great merit in correcting one's mistakes," he noted, but it seems those bureaucrats who acted against Tai Ji Men in Taiwan never learned the lesson. The abbot said he has participated in many events about the Tai Ji Men case, not only out of his respect for Dr. Hong and Tai Ji Men, but also because what happened to them endangers religious freedom for all believers.
Professor Chang Chia-Lin from Taipei's Aletheia University mentioned that Tai Ji Men case is the worst example in Taiwan's history, of how principles of freedom of religion or belief were not respected at different levels of the government and state bureaucracy. It is also a cause of "national embarrassment" for Taiwan, he concluded.
Dr. Huang Chun-Chieh, professor at the Department of Financial and Economic Law at National Chung Cheng University in Taiwan, said that the action of auctioning off the land of Tai Ji Men illegally and then nationalizing it is not simply a violation of property rights, but a violation of cultural and religious beliefs. He called on international experts to advise Taiwan's government agencies to regard this incident as a violation of universal value of human rights.
Professor Lin Jun-Lin, chairman of the Chinese Orthodox Alliance, called on the government to allow complete freedom of religious belief, which will help to calm the people. The Tai Ji Men case is a matter relevant to all citizens, hence, the justice for Tai Ji Men is justice for all.
Former legislator Kang Shi-Ru, reported how, as a convener of the Finance Committee in the Legislative Yuan (i.e., Taiwan's Parliament), he carefully studied the Tai Ji Men case, and concluded that "unbelievable" violations of law had been committed by rogue bureaucrats who had hijacked the government. Kang added that the Control Yuan and Legislative Yuan, which are now emphasizing human rights, are not credible if they do not act decisively to solve the Tai Ji Men case.
Matthew Chen, a 20-year-old dizi and a student at Boston's Northwestern University, also explained the health benefits of practicing qigong in the Tai Ji Men Academy. He told how in the U.S. he discovered philosopher Henry David Thoreau, who inspired many with his theories of civil disobedience, including to unjust conducts of tax officers. He mentioned that many Taiwanese friends who came to study in the U.S. do not plan to return to Taiwan, and suggested this might have something to do with the oppressive and corrupt tax system prevailing there.
Rosita Šorytė, a member of the Scientific Committee of FOB (European Federation for Freedom of Belief) and associate editor of Bitter Winter, mentioned the fact that young people start leaving the country without plans to return is a bad omen for Taiwan. We just saw in Afghanistan, Šorytė said, what happens when young people lose hope in their country, and would not make sacrifices to defend it. It is unconceivable, Šorytė said, that Taiwanese politicians are, until now, still unable to comprehend the damage to Taiwan's reputation caused by the Tai Ji Men case, which in many other countries would have been concluded long ago through a political solution imposed by the government to the reluctant bureaucrats and tax officers.
Puppet Show I International Friendship Day 2020
Tai Ji Men fight against 24-year defamation and for human rights