HHS IS WITHHOLDING HEALTH AND SAFETY DATA ON ACTIVE MIGRANT DETENTION CENTER
Health, immigration, & labor groups sue agency for failing to respond to FOIA requests
2020-09-17
Sept 16, Earthjustice on behalf of health, immigration, and labor groups filed a lawsuit against the U.S. Department of Health and Human Services (HHS) for violating the Freedom of Information Act (FOIA) by improperly withholding requested agency records concerning the expansion of a migrant child detention facility in Tornillo, Texas. This facility was a temporary detention center for migrant children that was overseen by HHS and operated by a private contractor from June 2018 until the facility closed in January 2019, amidst health and safety concerns. This site is still operational for adults in detention.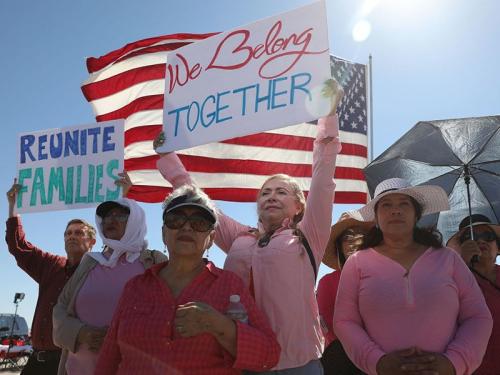 Activists protest family detentions outside of the Tornillo Port of Entry in Tornillo, TX.
Previously, two separate FOIA requests were submitted to Department of Homeland Security (DHS) and HHS in December 2018, just prior to the government shutdown, seeking records concerning the expansion of the Tornillo facility, including the environmental review of the site and analysis of the health and safety impacts on those in detention, among other things. The FOIA request submitted to DHS is currently being processed by U.S. Customs and Border Protection (CBP), a component of DHS, after CBP denied the request and the groups successfully appealed the agency's determination. Since submitting the request to HHS, we have not received anything more than an acknowledgement letter from the agency.
"The United States government has shown time and again a careless disregard for environmental regulations and an absolutely immoral disregard for the health and safety of immigrants in their custody," according to the coalition of groups being represented by Earthjustice. "How can we trust that these agencies have followed appropriate environmental impact regulations, if they can't even be trusted to provide basic human rights to families in their detention centers? The information that we've requested in this FOIA is critical to understanding just how far the Trump administration's malfeasance has gone."
Previous FOIA requests have revealed details of multiple proposed migrant detention centers on military bases that may have been in proximity to toxic waste sites. Fort Bliss has several Superfund sites, which are polluted locations requiring a long-term response to clean up hazardous material contamination. At Goodfellow Air Force Base, the area where tents would have been constructed is directly over a former firing range and adjacent to a closed but uncapped landfill. Exposure to toxic chemicals from these sites can cause cancer, neurological damage, developmental harm, and many other diseases. The plans for detention facilities at these sites have since been put on hold.
Source: Earthjustice
Puppet Show I International Friendship Day 2020
Tai Ji Men fight against 24-year defamation and for human rights