SUDAN: The shape of humanitarian space in Darfur
2010-10-06
Darfur, described recently by US Secretary of State Hillary Clinton as still "dangerous, difficult, not stable", is among the world's most challenging environments for humanitarian workers.
Insecurity and the often-related lack of access are major concerns. Over the past 18 months, armed groups kidnapped 23 aid workers for periods ranging from two to 147 days.
The Northern government's expulsion in March 2009 of 13 international NGOs over allegations of collaboration with the International Criminal Court, and the more recent expulsion of individual aid workers and the departure of three other NGOs, have contributed to a climate of operational uncertainty.
Against this background, IRIN talked to an international aid worker, who asked not to be identified, about the daily challenges of working in Darfur. [Disclaimer: these are the opinions of a single aid worker and are not presented as a definitive description of the situation; however, the sentiments were commonly expressed in multiple interviews and conversations, and provide an important taste of the experience of aid work in the region].
Access
"We work following the humanitarian principles of humanity, neutrality and impartiality and what we ask for is only to have access to the most vulnerable populations, regardless of which side they belong to.
"There are areas [often] inaccessible to humanitarian workers, like Eastern Jebel Marra [where insurgents and government forces have clashed repeatedly over recent months], where only a few missions have been allowed since January. But when access was granted it was only for a few hours and with limitations as to what one could and could not do and what to deliver as well.
"But can one really make an assessment of the needs of thousands of people in two to three hours? And if we are in the country for a purpose, why can't we respond within our means?
"What doesn't seem clear is that politics is for politicians; we are humanitarian workers."
Determining priorities
"Ever since international NGOs started leaving Darfur, the dilemma for my organization and for many others, I understand, was to decide if we had to adjust our modus operandi to be able to stay in the country or if we should continue to do business, just the way we do it elsewhere while risking unpopularity and probably being sent away.
"We decided to keep on pushing and trying. Others left, were silenced and started working on certain issues rather than others. This was problematic for most.
" Politics is for politicians; we are humanitarian workers
If at first we witnessed expulsions thinking the response gap was to be filled, a year [later] we know it wasn't. It was soon understood that having dozens [of NGOs] leaving the country was problematic; there were [fewer] people distributing food, or working in healthcare and education.
"But soon things started changing; from sending away entire NGOs it was individuals who started [being expelled] in the presence of the international community amidst official denials from the organizations these people were working for."
Bureaucracy
"One of my biggest frustrations is to see our work being delayed by the bureaucratic system. If for whatever reason we don't receive the green light from HAC [the government's Humanitarian Aid Commission] or the ministry we refer to, we cannot operate. And often the [rejections] and delays remain unexplained."
"Due to the security situation we often need to move in convoys. The downside of this is that you need to plan movements in advance, but also, [travelling] around with three or four cars is not the most discreet way to operate. When your mission is about asking questions of people, they may not feel comfortable talking to you and fear for the confidentiality of the information they share.
"Also, since many areas are not accessible by road, from time to time you need to ask the UN for logistical support to reach remote villages with their flights, which are the ones with strongest needs. If this is a great advantage on the one [hand], giving us the mobility we would not have otherwise, you may have to take into account bureaucratic procedures which again take time and limit the ability to respond rapidly, or as rapidly as you would want to."
Fear
"People are afraid to talk, they all fear repercussions for themselves and their organizations. But can one actually live in fear and do what one does? Isn't the work of humanitarian workers difficult enough?
"None of us has any opinions about the political issues – what we see are people looking for help and our sole agenda is to deliver aid to those who need it and their stories are there to remind us why, despite the frustrations, we should continue doing what we do.
"This sense of powerlessness and frustration affects us all but, despite the frustrations, I still admire the courage of all the people who are trying to help."
Source:IRIN NEWS
Reports on World Prayer Day -Willingness to take action in critical moments and emulate world peacemakers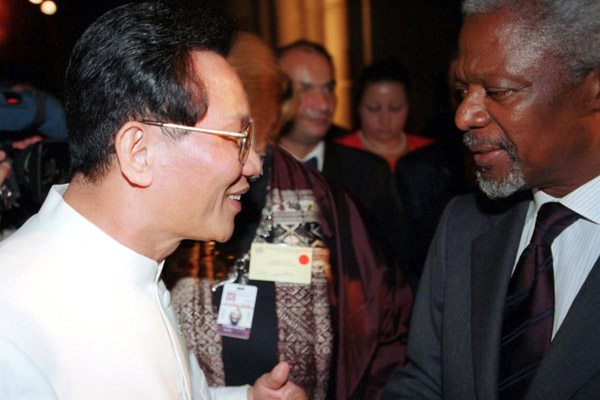 Puppet Show I International Friendship Day 2020

Tai Ji Men fight against 24-year defamation and for human rights