Save the world from the epidemic with conscience Peace in the World
Gospel to the world
2021-10-03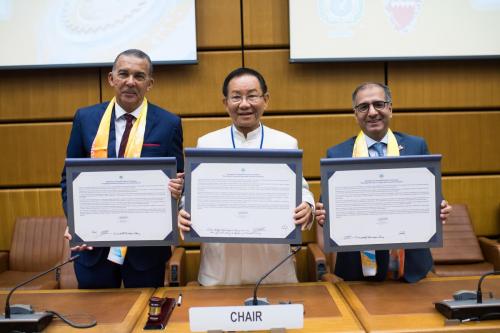 H.E. Anthony Thomas Aquinas Carmona, former President of Trinidad and Tobago, Dr. Hong Tao-Tze, H.E. Yusuf Abdulkarim Bucheeriu, Ambassador of Bahrain to the United Nations in Vienna, singed the Declaration of the International Day of Conscience
The new coronavirus is arriving with a vengeance, the variety is more contagious, and the epidemic is raging. People are becoming conscious that we are all living together, tightly connected, and that we need the force of conscience to turn the world around more than ever. Mankind's obsessive pursuit of consumption, fame, and fortune has wreaked havoc on the planet, and a balanced yin-yang philosophy is urgently needed to restore the planet's vitality. From 5 Do's and 3 Don'ts Preventive measures in 2003 to the current transmission of Prayer for the World on the Internet, Tai Ji Men has been propagating the Gospel of Hope to the world. Facing the natural or man-made disasters, no one can escape. These severe challenges tested our ability to respond and our conscience and honesty. People expect a government that loves and cares for them, so those in power must think of the people and implement reforms with conscience.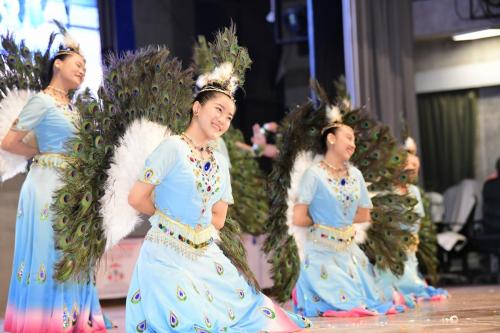 Tai Ji Men Cultural Dance embodies the peacock's spirit of "trying all kinds of poisons but releasing fragrance" in the hope of purifying people's hearts.
Global pandemic prevention requires total mobilization.
Save the pandemic with conscience to have butterfly effect of goodness
The new coronavirus epidemic has devastated the world. While countries are struggling to find a solution, the ferocious attack of mutated virus seems unstoppable. Tai Ji Men, an ancient menpai of qigong, martial arts and self-cultivation, released a preventive measure and a video of 5 Do's and 3 Don'ts and 6 tips on Internet. In response to the outbreak of Delta virus in 2021, Tai Ji Men has recently released a trilogy of antiviral combat, anti-pandemic battle, and immunity videos that contain the wisdom of balancing body and mind, as well as the importance of conscience.
"With united hearts and conscience, we can overcome the pandemic; Let's work together to fight the virus; the handy disease preventions tips and follow the five do's and three don'ts for protection are worth sharing; we humbly beseech Heaven to have mercy on us; may the outbreak end soon, "Dr. Hong, Tao-Tze made the call in early 2020. Dr. Hong encourages his dizi to begin with themselves, to conduct more good deeds, and to utilize positive energy to boost the herd immunity. Dr. Hong instructed his dizi to compile the "Preventive Measures" as early as 2003 by combining ancient health wisdom with modern epidemic prevention concepts, when SARS was raging, which includes "three don'ts": don't lose your temper, don't worry, and don't be anxious; and "five do's": wash your hands, drink more warm water, do more exercise, be happy, and be more careful.
On April 5, 2020, the first United Nations International Day of Conscience was commemorated around the world with a 45-hour live stream on Youtube and Facebook from the earliest to the latest time zone. The "Preventive Measure Handbook" by Tai Ji Men was sent worldwide via the Internet, including to heads of state and all 50 states of the United States. So far, the handbook has been translated into 32 different languages.
Tai Ji Men has published a series of 25 full-page epidemic prevention edition in Taiwan's New Life Newspaper since February 8, 2020, bringing together 71 experts from Tai Ji Men, including Chinese and Western medical veterans and wide-range professionals and specialists from all walk of life. More than 96 percent of village leaders in Taiwan have endorsed the Declaration of Conscience and shared the message of goodness to their villages' residents, resulting in a butterfly effect of goodness.
Gospel to the world
Love and peace trip of Tai Ji Men Shifu and Dizi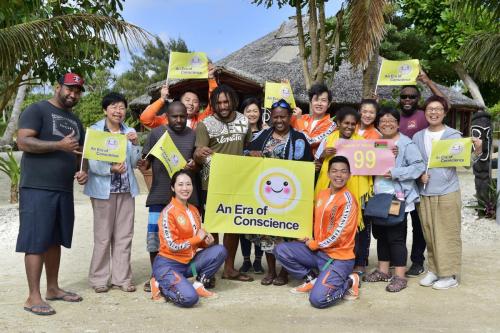 When Tai Ji Men Shifu and dizi traveled to the Oceania islands, where global warming is a serious issue, they shared the Movement of An Era of Conscience
Taiwan goes out to welcome the world. In ancient time, Confucius led his followers traveled throughout the world; now, Tai Ji Men Shifu and dizi have toured around the world to promote a culture of peace. They have visited 101 countries to date and earned international acclaim widely. Tai Ji Men was named a Goodwill Ambassador for International Peace by the United States in 2000, and also attended and organized several international conferences, including the UN NGO Conference, the World Summit on Sustainable Development, and the International Conference of Chief Justice in India for 10 times. They have continued the journey of spreading the seeds of conscience throughout the world, influencing various fields such as culture, education, peace, human rights, law, environment etc.
Dr. Hong Dao-Tze, the Tai Ji Men's Zhangmenren, has received numerous accolades in Austria, India, Italy, and the United States for his words of wisdom, which have inspired people's hearts, and his promotion of the culture of peace with love and conscience around the world. He initiated the movement of an Era of Conscience in 2014. In 2018, he invited ambassadors to the United Nations in New York to the world Summit of Love and Peace to discuss the topic of "Promoting a Culture of Peace with Love and Conscience." In June 2019, the Kingdom of Bahrain proposed a resolution on "Promoting a Culture of Peace with Love and Conscience," which was adopted by the 73rd United Nations General Assembly on July 25 2019. The April 5 was therefore designated as International Day of Conscience. On February 5, 2019, Dr. Hong launched a global campaign of endorsement of the "Declaration of International Day of Conscience" in the United Nations Headquarters in New York. The Declaration has been translated into 53 languages and endorsed by people in 195 countries.
Dr. Massimo Introvigne, Founder and Director of the Center for Studies on New Religions, has studied Tai Ji Men for long time and respected Dr. Hong very much. He cited a vivid story as an analogy "The Buddha befriended with three very rich but spoiled young men. One day the house in which these 3 young men lived caught fire, but they were so spoiled and did not realize the house was on fire, and they would be burned to death. The Buddha tries to figure out how to save these young men and he realized talking to them is not useful. They would simply not understand. So the Buddha sent three very beautiful chariots to attract these three young men to board the chariot and leave the burning house." "The young men didn't realize the house was on fire, but they liked the chariot, so they got on it and get saved." Introvigne emphasized: "Our world is on fire, there are a lot of fires and smoke, and we are seriously to die, but we don't realize it. Even if someone told us, we wouldn't understand, and that is the mission of Dr. Hung, Tai Ji Men and FOWPAL." "I believe that's the lesson of International Day of Conscience; that's the lesson of Tai Ji Men and I thank you, Dr. Hong, for offering us the chariot so that we can all board it and be saved from the house on fire, which is our world."
Four Presidents Praised Tai Ji Men
For Bringing Taiwan to the World's Attention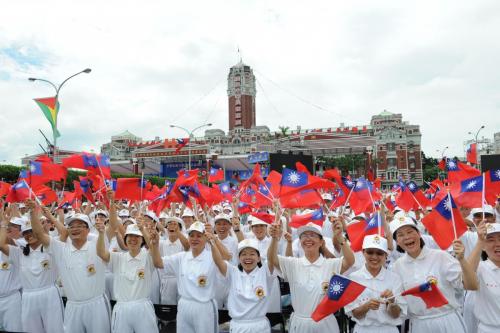 Tai Ji Men has participated several National Day Ceremony performances. It is an opportunity for people to learn about the beauty of a culture that has been passed down from generation to generation
Mr. Li Deng-Huei, the 7th, 8th and 9th President of Taiwan: commented: "Tai Ji Men has been established for 35 years and has aimed to uphold loyalty, filial affection, love for the country, and love for society. It has committed itself to disseminating martial arts and promoting martial arts morals. It has been dedicated in the continuity of traditional culture, and decent societal morals. Its contributions are remarkable!"
Mr. Chen, Sui-Bian, the 10th and 11th President, praised:
Tai Ji Men is an ancient school of Qigong martial arts, where Masters and disciples are passed down from generation to generation, like a warm and welcoming family. Everyone in Tai Ji Men has good health and spirit, full of energy. Under the guidance of Zhang-Men-Ren Hong, they not only cultivate their hearts and minds, but also uphold the spirit of doing good to the world and helping others. They also engaged in culture exchanges to promote love and peace across the five continents."
Mr. Ma, Ying-Jiou, the 12th and 13th President of Taiwan, said, "Every time we see Tai Ji Men, we see energy, we see warmth, and we see love... We admire Dr. Hong Tao-Tze very much for his heart of compassion. We hope that Tai Ji Men will continue the same principle in Australia and other countries throughout the world so as to let Taiwan act like a shining star and attract more attention across the world."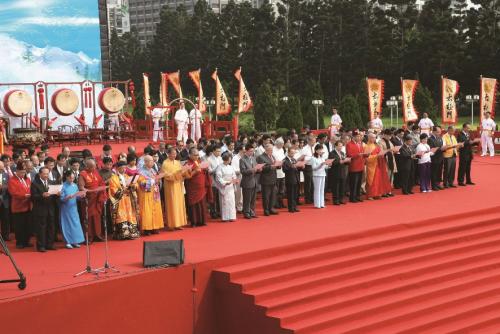 In the ceremony of Tai Ji Men Prayer for the world, the distinguished guest from all walks of life gathered and initiated a one-minute global meditation to pray for blessings.
Ms Tsai Ing-Wen, the 14th and 15th President of Taiwan, said, "Under the Zhang-men-ren's leadership, Tai Ji Men has actively participated in international events, which has facilitated the civil diplomacy and enhanced Taiwan's global visibility. In the future, I also hope that Tai Ji Men, under Dr. Hong's leadership, will continue to work with the government. Let us use our positive influence, and move Taiwan forward with non-stop progress. Let the world see Taiwan."
Foreign ministers praised Tai Ji Men as a cultural model, which is well-known abroad
Mr. Cheng Jianren, Minister of Foreign Affairs, said, "I think it is very good that we can present our traditional culture, sports and arts in different forms through this way, and it will certainly help us a lot in the international community." (1999)
Mr. Hu ChihChiang, then Mayor of Taichung City, said, "I am very grateful to Tai Ji Men for helping our country in diplomacy. Our friends at Tai Ji Men have always been enthusiastic about public service and public affairs. This time they joined us and brought colorfulness to our event, I am very grateful! This is the spirit of Tai Ji Men" (2004)
Mr. Chien,Yuhsin, Minister of Foreign Affairs, said, "On behalf of the government, we would like to present a certificate of recognition to Dr. Hong Tao-Tze, the Zhang-men-ren of Tai Ji Men, for his active participation in international affairs and promotion of martial arts over the years, which have brought wide recognition and global visibility of Taiwan, with particular focus on the image of our country. " (2004)
Mr. James Huang, Deputy Secretary General of President Office, said, "Tai Ji Men itself is an excellent model. Especially since its program of performances at the opening ceremony of the Sydney Olympic Games, I believe that many people in global society think of Tai Ji Men when they think of Taiwan." (2006)
Mr. Ou HungLien, Minister of Foreign Affairs, said, "Tai Ji Men was invited by the Seattle City Government to participate in Seafair Torchlight Parade, one of the top ten festivals in the United States. The tradition of Tai Ji Men is based on the essence of Chinese Kung Fu to cultivate one's body, mind, and nature, which demonstrates the true essence of Chinese culture." (2008)
Mr. Yang Jing-Tian, Minister of Foreign Affairs, said, "Under the leadership of Dr. Hong, Tai Ji Men spreads a message of love and peace not only in our country but also in all corners of the world, so that the whole world can hear a fresh voice amidst disturbances." (2010)
Anti-Pandemic with conscience and care for each other. Prayer for the world and spread the gospel


Anti-Pandemic combat


6 tips to stay safe and healthy


Endorsement of declaration


Prayer for the world
We are working together to prevent the virus pandemic, to create a protective shield for the body, mind and soul, and to spread good thoughts across the world. Please join us to endorse "Declaration for the Movement of An Era of Conscience" and "Declaration of International Day of Conscience" and share the declaration to the world. "Prayer for the world" which was written by Dr. Hong Tao-Tze has been translated into more than 70 languages and spread the gospel of hope to the world.
Reports on World Prayer Day -Willingness to take action in critical moments and emulate world peacemakers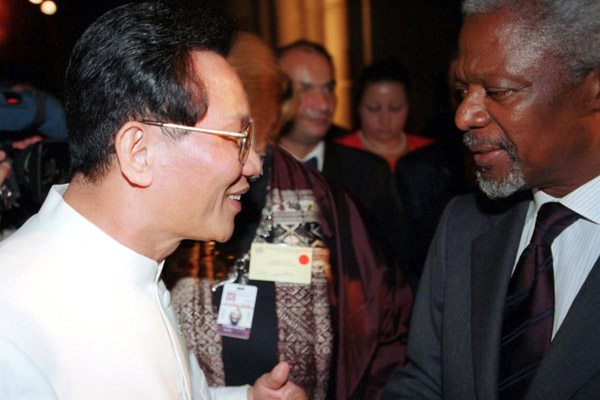 Puppet Show I International Friendship Day 2020

Tai Ji Men fight against 24-year defamation and for human rights